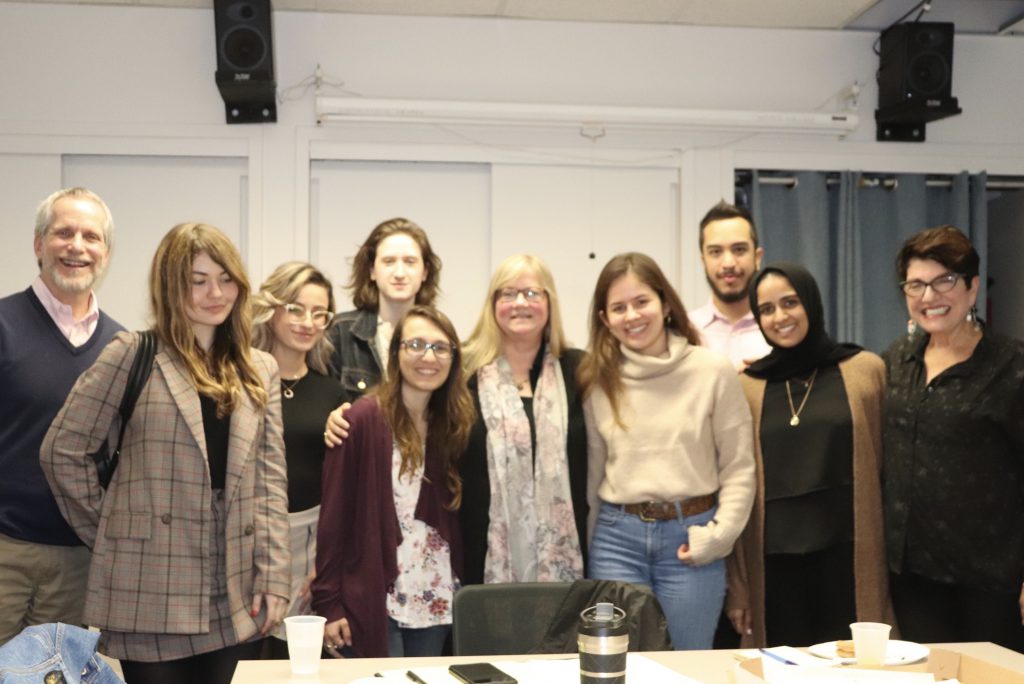 Susan Ferriss, a senior reporter at the non-profit investigative news operation Center for Public Integrity, met with a select group of a dozen Hunter College journalism and other students for lunch on Oct. 29 and to share insight from her years within the news business.

Ferriss was on campus to accept a James Aronson Award for Social Justice Journalism for her reporting on abuses by U.S. Customs and Border Protection, or CBP, and spoke at length about her experience with the project.

She reflected on the extensive search for information that led to her findings, a process that demanded she monotonously comb through many pages of data. But the hard work paid off. "Never underestimate what you can find," she told students.

Investigating CBP's power of search

Speaking of the abuse cases that she covered in her story, Ferriss recounted the fear and trauma inflicted on CBP's victims, brought about in large part because of the agency's extensive powers of search.

Ferriss also noted that those searches seem to be racially motivated, although she said the agency has denied that. But she cited data from her reporting, for instance, that showed how CBP searched women of color more often than white women, even though it found contraband more often on white women.

Ferriss emphasized to students at the luncheon how important it is for those not being personally affected to be made aware of injustices going on around them, "I like to get stories out to communities that aren't involved in the story," she explained.

The award winner also made sure to focus students on fairness. "Talk to the other side early in the development of the story, after you have enough information to ask questions …. Try not to think of the other side as the bad guy," she warned.

While Ferriss added that it was important to try to get CBP to talk to her, she did note, that the agency has become less transparent over the years and added that she was declined an in-person interview.

Advice for aspiring journalists

"Learn everything you can" in multimedia, Ferriss advised students, adding that journalism isn't only about reporting anymore, but that multiplatform skills are now needed to succeed in the digital age.

It's also important to consider the platform when disseminating information about one's reporting, she suggested. Ferris reflected during the meeting, for instance, on the difficulties of presenting her investigative work on radio, noting that she couldn't "drone on" about numbers and data on radio because it would bore listeners.

But in the end, basic reporting and storytelling skills matter, Ferriss suggested, bluntly telling students, "Editors want someone who they can send out to an event for a story and be confident that you will come back with a lede." 

Also on hand at the event were Professor Catherine Raissiguier, chair of Hunter College's Women and Gender Studies Department, as well as Professor Tami Gold, organizer of the Aronson Awards program, and Professor Adam Glenn of the journalism program and an Aronson Awards judge.