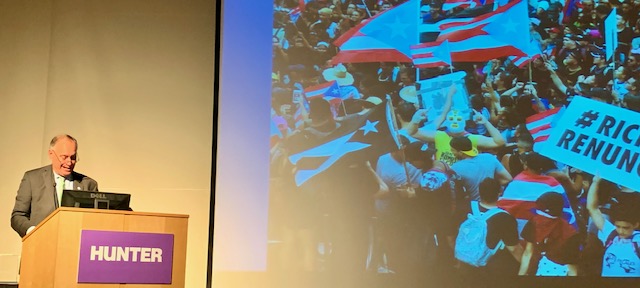 Hunter College's 2019 James Aronson Awards for Social Justice Journalism ceremony on Oct. 29 spotlighted the power of transformative watchdog reporting in Puerto Rico, and lauded investigations into environmental risk, prison abuse and federal border agent overreach, along with stories of community restoration and personal endurance.
The annual showcase of award-winning journalism, held at Hunter College Silberman School of Social Work on Oct. 29, drew 170 attendees, according to organizers Tami Gold and Blanca Vazquez.
Among those on hand were 15 Hunter journalism students, along with journalism faculty members Sissel McCarthy, Adam Glenn, David Alm, Pam Frederick and Karen Hunter (who served as event emcee).
'The fearless search for truth has

never been more vital'

— CUNY Chancellor Felix V. Matos Rodriguez
CUNY Chancellor Felix V. Matos Rodriguez headlined the program, speaking at length about his own experiences of political change in his native Puerto Rico as he extolled Puerto Rico's Center for Investigative Journalism. The center won this year's special Media in the Public Interest Award for its groundbreaking investigations that helped bring down the commonwealth's governor earlier this year.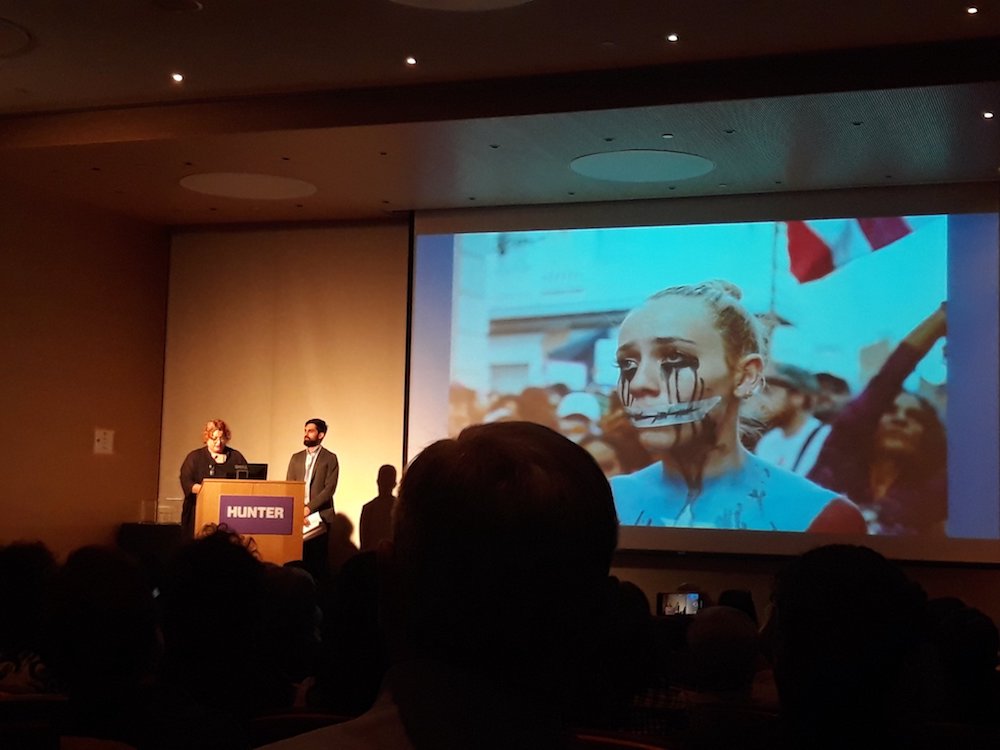 "The fearless search for truth has never been more vital," said the chancellor, adding of the center's reporting, "It's hard to imagine a better example of the role of journalism in a free society."
Carla Minet, the center's executive director, who accepted the award on the organization's behalf, added: "Journalism can trigger societal change and don't let anyone tell you otherwise."
Hunter journalism student Maria Luisa Imbachi was also singled out among the diverse group of award-winning journalists at the event. Imbachi received the 2019 Aronson student journalist award in part for her work covering issues facing undocumented students.
Imbachi, a "Dreamer" herself, spoke of her own struggles with cultural adjustment, and thanked her professors and family for their support.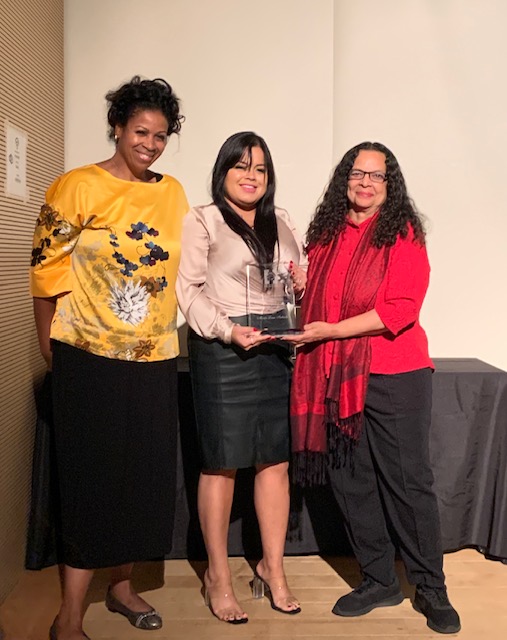 Other winners detailed the challenges of investigative work that revealed how the U.S. government is helping push exports of fossil fuels overseas, despite global warming worries, how asbestos fibers and lead paint have poisoned students in Philadelphia's schools, and how abuses and violations plague a secretive Manhattan prison.
One awardee, Susan Ferriss of the non-profit investigative journalism Center for Public Integrity, spoke of how her investigation, which documented invasive-search cases involving federal border agents, sought to hold power to account. "Lord knows," she said, "We have a lot of that to do right now."
But it was non-journalist who stole the show late into the evening. Andre Lee Ellis was the subject of a Milwaukee Journal Sentinel series that took honorable mention for telling the story of how a community gardening program sought to rescue young black men from the cycle of violence in their neighborhood.
Ellis took to the stage sporting a crayon-red jacket, and recited the Langston Hughes poem, "I, Too," before recounting in amusing and moving detail how he inadvertently created the now-highly successful community youth program.
'Journalists have a voice that other people don't and we need to take advantage of that.'

— Undergraduate awardee Maria Luisa Imbachi
The awards also tapped former Pittsburgh Post-Gazette's Rob Rogers as this year's recipient of the Cartooning with a Conscience Award. Rogers thanking the judges and joked that while he didn't actually know who they were, "all they wanted was some dirt on Joe Biden."
The Aronson ceremony was dedicated this year to former Hunter Professor Peter Parisi, who directed the awards program for more than 20 years and who died earlier this year. Several family members were on hand to present a special award in his name to reporters from the Philadelphia Inquirer for their "Toxic City, Sick School" project.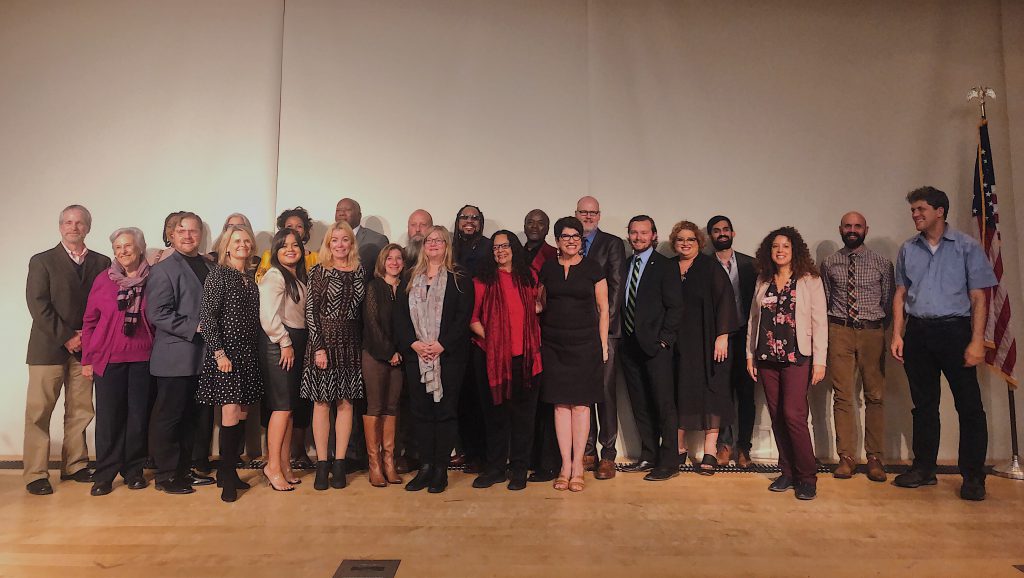 Afterwards, winners mingled with student, staff and others over food and beverages. Student winner Imbachi, asked about her plans for the future, joked "the next plan is to graduate." She added, on a more serious note: "I want to continue being an advocate for dreamers and immigrants. Journalists have a voice that other people don't and we need to take advantage of that."
Winners from Puerto Rico's Center for Investigative Journalism later acknowledged suffering some backlash following their groundbreaking reporting. "We have received threats, but on the contrary most people show support through emails and donations." They also had some advice for student journalists: "Start pitching stories to as many media outlets as you can."
The evening's host, Karen Hunter, exhorted students to follow in the lead of the Aronson winners. "Journalism is not dead," she exclaimed. "We need the next crop of people to stand in the truth, to have integrity, and to be unafraid to tell the stories that aren't being told."
A video stream of the full ceremony is available here or below.
ALSO:
A. Adam Glenn contributed to this report.