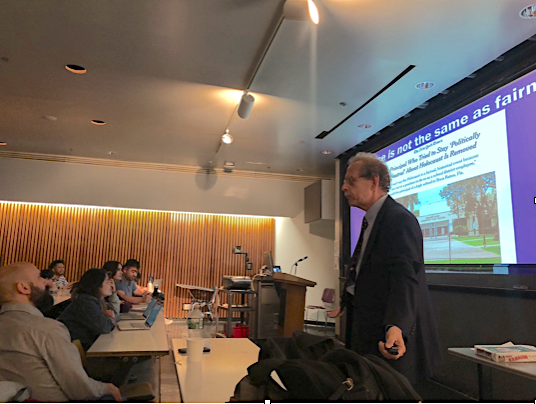 Students in Professor Sissel McCarthy's MEDIA 211 class learned all about bias, fairness and balance in the news media from one of the nation's preeminent scholars on news literacy, during a guest lecture on Oct. 24.

Professor Howard Schneider has been on a crusade to teach students how to think more critically about the news they're consuming since he founded the Center for News Literacy at Stony Brook University in 2006. 

Schneider began his talk at Hunter by asking how many people thought the news media was biased. Nearly all 100 students in the lecture hall raised their hand, which Schneider expected.

'One biased news outlet does not mean all news media are biased.'

— Howard Schneider, long-time journalist and news literacy scholar
"Most people confuse news outlets with the news media. That's wrong," said Schneider, who explained that bias is a pattern of unfairness. "One biased news outlet does not mean all news media are biased."

He also taught students about audience bias and the tendency to seek out information that confirms pre-existing views. "People tend to distort or forget incoming information that disagrees with their point of view," Schneider said.

Schneider urged students to slow down when consuming news and get past any initial emotional reaction so that they can engage the critical thinking part of their brain and ask themselves three questions:
What do I know?
How do I know it?
What don't I know?
He also believes it's essential to break out of filter bubbles and consume news that challenges existing assumptions and beliefs.

Schneider was a reporter and editor at Newsday for more than 35 years before he began his teaching career as the founding dean of the School of Journalism at Stony Brook University.

He also helped develop a curriculum to teach news literacy that has been used to educate more than 17,000 undergraduates at dozens of U.S. universities and in 10 countries. 
Find out more about Hunter's news literacy program and its new NewsLiteracyMatters.com web site (subscribe here).