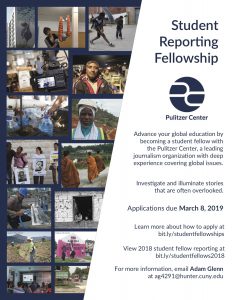 The deadline is approaching for applications to the Pulitzer Center summer reporting fellowship, which each year provides one Hunter student with $3,000 to cover an under-reported global story from overseas.

The Pulitzer Center, a leading journalism organization with deep experience covering global issues, offers the annual student reporting fellowship through a campus consortium that includes Hunter College.

Fellowship is designed to encourage students to investigate and illuminate stories that are often overlooked, and offers students the opportunity to work with the Pulitzer Center staff on the project.

In addition, the center hosts an annual fellows weekend in Washington, D.C., to expose students to the work of other fellows, provide an opportunity to network with professional journalists and editors, and further broaden horizons.

In 2018, Hunter journalism student Kadia Goba won the grant to report on environmental sustainability issues in Sierra Leone and later had her work published in Pacific Standard magazine.

And in 2017, journalism student Amy Russo was awarded the fellowship to report on the plight of children refugees arriving in Sweden. Russo's resulting report was later published in the prestigious journal Foreign Affairs.

You can explore reporting by other student fellows at bit.ly/studentfellows2018, and learn more about how to apply at bit.ly/studentfellowships. Download the application from the Pulitzer Center Campus Consortium website.

Applications should be emailed to Prof. Adam Glenn, journalism internship coordinator, at ag4291@hunter.cuny.edu, by March 8. Contact him or other journalism faculty to discuss your proposals.