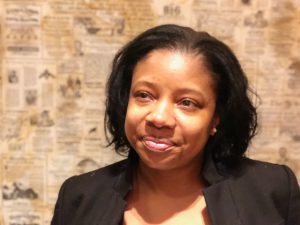 Media studies student Kadia Goba has been selected by the Pulitzer Center for Crisis Reporting for its prestigious Hunter College Campus Consortium International reporting fellowship. The fellowship is offered annually to one Hunter College journalism student.
Goba will use the $3,000 grant to travel to Sierra Leone in May. There she will report on environmental challenges, such as the deforestation that lead to a deadly 2017 mudslide, which killed more than 1,000 people and displaced thousands more.
While in Sierra Leone, Goba will visit the site of the mudslides, as well as a nature sanctuary, a local school and locations where a grassroots movement is replanting trees. She will also attend a fellows weekend in the fall in Washington DC to meet other fellows and professional journalists.
The Pulitzer Center's selection committee said, in awarding the grant to Goba, that it was extremely impressed with the scope and originality of her proposal. At Hunter, Goba has been an accomplished student, and currently serves as an intern at the political unit of NY1 and as editor-at-large covering politics at Kings County Politics.
Learn more about the Pulitzer Center and its Campus Consortium, and watch for announcements about future opportunities.