By Stella Chu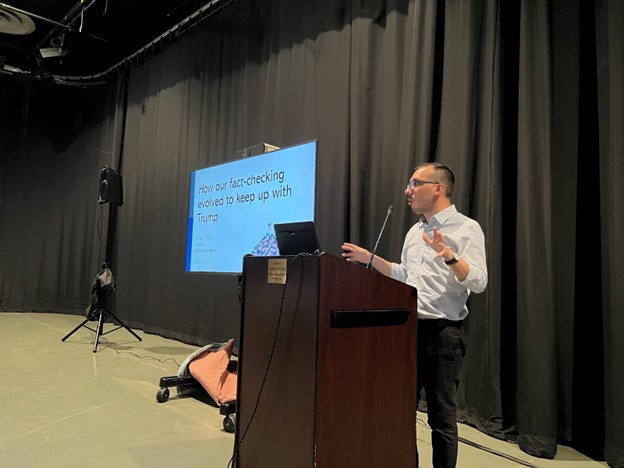 On Wednesday, April 6, Washington Post reporter and fact-checker Salvador Rizzo came to Hunter to talk about the spread of misinformation and his new book, "Donald Trump and His Assault on Truth."
Rizzo talked about how he channels his inner Agatha Christie when he fact-checks.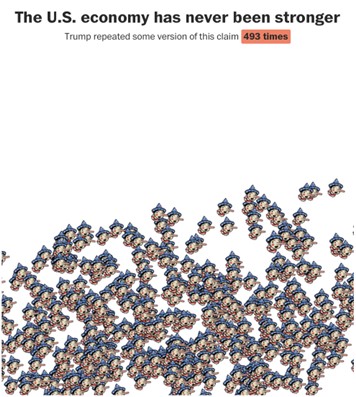 "The most important thing I can tell you about how to write a fact-check is to write it like a whodunnit," Rizzo said. "The fact-checks get super complex and you want to make the information digestible to the reader," he added.
"You're not a dry news reporter writing on the front page with no view. Here you're writing a Sherlock Holmes caper," said Rizzo.
Rizzo was a reporter and deputy editor of The Washington Post Fact Checker from 2018 to 2021. Before that, he spent more than seven years covering New Jersey courts and politics and Chris Christie's governorship and presidential campaign for the state's major news organizations.
He began his journalism career as a Washington Post copy-editing intern in 2008 and was part of the fact-checking team that received an honorable mention in 2019 for the Robin Toner Prize for Excellence in Political Journalism for The Post's fact-checking database.
Rizzo personally fact-checked many of Donald Trump's falsehoods, rating them on a scale of Pinocchios, four Pinocchios being the most false.
Rizzo also talked about the sheer absurdity of fact-checking under Trump: "It's so hopelessly complicated. Trump started talking about people getting murdered in South African farms, so I had to read all these articles in the South African press, and they write in a different way, so it was hard to follow."
It's not only the people you're fact-checking that causes problems—sometimes it's the audience themselves.
"Often you'll find that people complain about things being wrong," Rizzo said. "But it's not wrong, it's just something they disagree with."
When asked how to combat misinformation in the digital age, Rizzo replied, "Take a news literacy course!" He says people need to learn how to identify good, trustworthy media sources from the bad ones.
"That is one of the most important life skills anyone can have today."
For more on Sal Rizzo and his work, check out this Q&A.
Tune in to https://fm.hunter.cuny.edu for updates on events and other happenings in the Film & Media department at Hunter.