By Stella Chu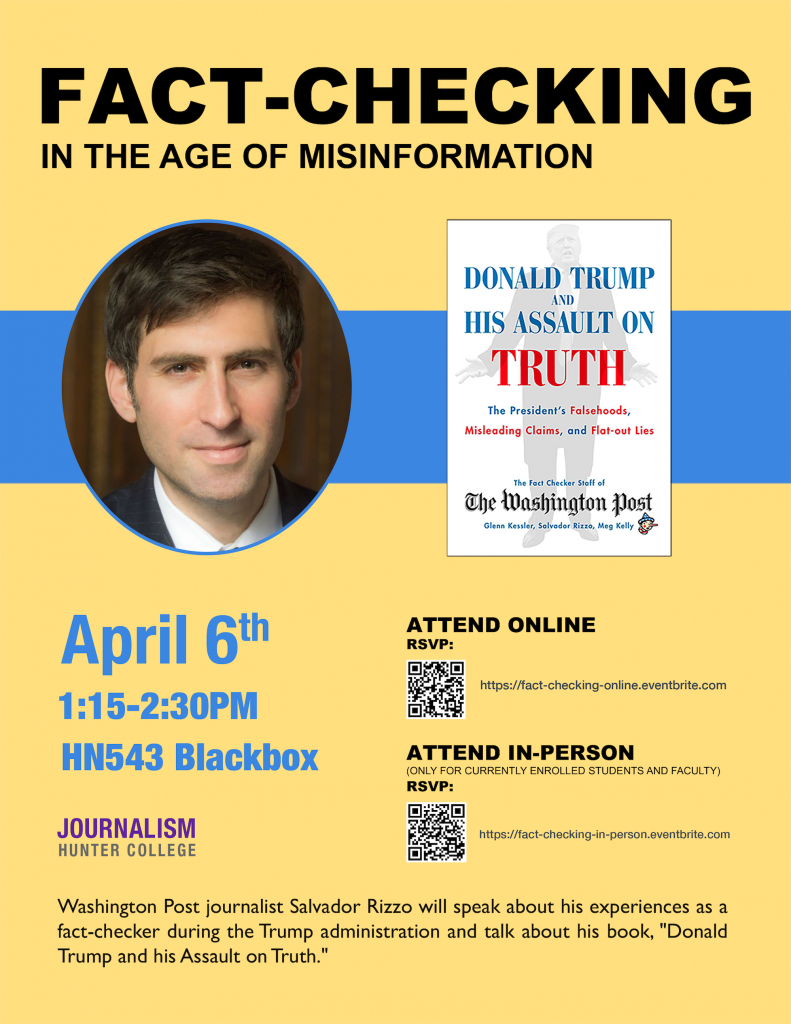 Washington Post reporter Salvador Rizzo is coming to Hunter to talk about his career as a fact-checker, as well as his book, "Donald Trump and His Assault on Truth."
I got a chance to catch up with him before his visit. Here's some excerpts from our conversation:
Q: As a reporter and fact-checker, you've been on the frontlines of the COVID-19 pandemic. How has your line of work affected your personal views on the pandemic?
A: First of all, that's a really great question. This pandemic is not over. We just passed six million deaths, globally. It's impossible for people to fathom six million people, it's too big of a number.
But because we're seeing mask mandates being dropped and returning to "normal," there's a sense that it's all over and we can return to how we were pre-pandemic. People are going to carry on with their daily lives as they always have.
But there needs to be a balance. Check your local county numbers, and make decisions, like taking your mask off or leaving it on, according to them.
Q: On a daily basis, you deal with a lot of people who have no idea what they're talking about. How do you deal with that?
A: Even though there are tons of people who don't know what they're talking about, the best part is that there are lots of people who do.
The best skill I've been able to learn as a fact checker is seeking out these knowledgeable experts who are able to debunk misinformation.
Q: Do you think there's a remedy to the pandemic of misinformation?
A: Yes. People are becoming more aware of falsehoods and misinformation and doing more to combat it, especially on Facebook.
There's a group of Facebook moms, Vaccine Talk, that have started a forum for those seeking answers, to create a healthy discussion around vaccines, and provide resources for skeptics.
So we can see there's a hunger to fight against misinformation and conspiracies.
Q: When talking about misinformation on the internet, something I often notice is non-English speakers being left out of the conversation. In my experience, lots of immigrant communities on apps like Whatsapp and Facebook may be more prone to believe misinformation. Do you feel enough is being done to include them in the picture?
A: You know, in Florida during the 2020 election, the Trump campaign put out ads, in both Spanish and English, comparing Biden to socialist leaders like Hugo Chávez and Fidel Castro.
It's simply not true. I mean, history should be open to interpretation, but it still needs to have meaning. It can't mean nothing. They were trying to scare the Venezuelan and Cuban diaspora.
But The Washington Post put out fact-checking articles in both Spanish and English explaining these ads and why they're misleading.
Q: From 2016 to 2021, I've taken notice of something I've coined "Trump Journalism," which is a field of journalism solely based against Trump.
Now that he's out of the limelight, what shifts have you seen in the field?
A: Now that Biden is in office, we're seeing a president that we're used to, a president cut from the same cloth as those who came pre-Trump.
His media is more distilled. Biden's not going on Twitter every morning and calling African countries "shithole countries." Before, Trump's lies were upfront and easier to spot, but with Biden, journalists still have to take the same vigilance to fact-check what he says. It may even be harder, because it's not as obvious.
And to be clear, journalists aren't "for" or "against" Trump. The only thing journalists should be "for" is the truth.
Join Hunter's journalism department and Rizzo for Fact-Checking in the Age of Misinformation on Wednesday, April 6th at 1:15 pm in HN 543.
Click here to register.