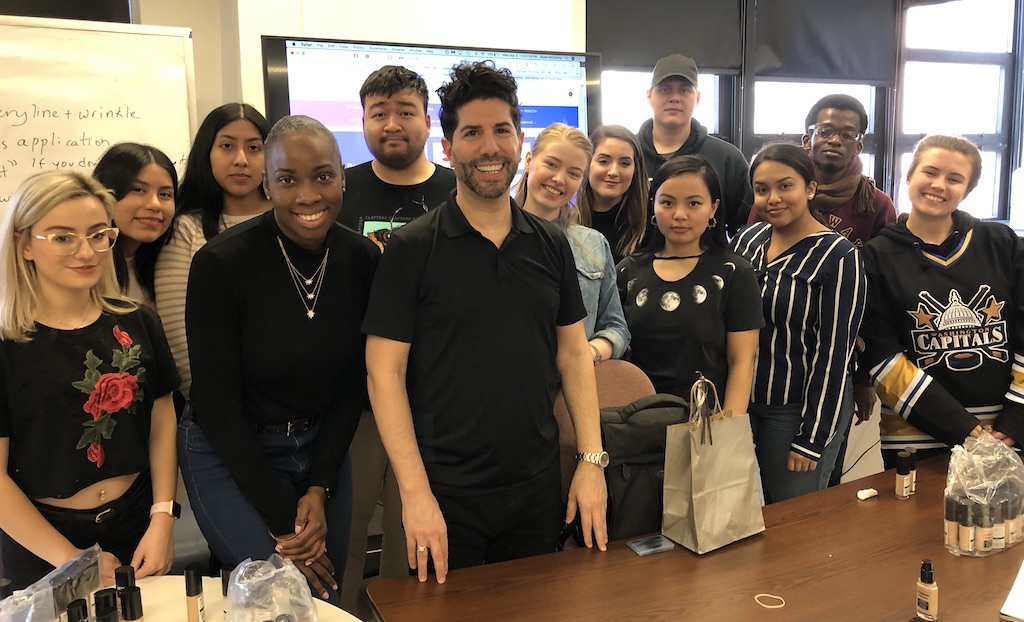 A makeup artist to the stars visited Prof. Sissel McCarthy's Studio News Production class last week to teach students how to apply high definition makeup a week before their first Hunter News Now newscast.
Ramy Gafni, who has a salon on East 33rd Street and an eponymous makeup line, explained to students that high definition TV will show every line, wrinkle, and makeup mistake. That's why his maxim is: Minimum makeup — maximum impact.
"But everyone on camera needs makeup, or you'll look washed out — men included," said Gafni, as he applied makeup to Hunter News Now student, Colleen Digney (pictured below). "The art of makeup is the blending, especially with high definition."
Other tips include:
start with a clean face that's moisturized
use a primer
use concealer both under your eyes and on your lids
no mascara on lower lashes but add an extra coat to your outer lashes
"I actually recommend adding an extra coat to outer lashes for every 10 years over 30 — so if you're in your 50s, that's two extra coats," said Gafni.
Gafni has been called the 'eyebrow whisperer' for his work on both women's and men's eyebrows.
Gafni's clients include journalist Jane Pauley and celebrities Taylor Swift, Rhianna, Tina Fey, Britney Spears and Naomi Campbell, but he's equally famous for his eyebrow-shaping expertise and has been called the "eyebrow whisperer" for his work on both women's and men's eyebrows.
"Waxing is for cars! Do not wax or thread your eyebrows," said Gafni, who advises clients to use short straight lines to fill in their brows and then shared his trade secret: two dots of highlighter blended in on each side of the peak of the brow to finish the whole look.
Hunter students can use the promo code "HUNTER" for a 30 percent discount on Gafni's cosmetic line.