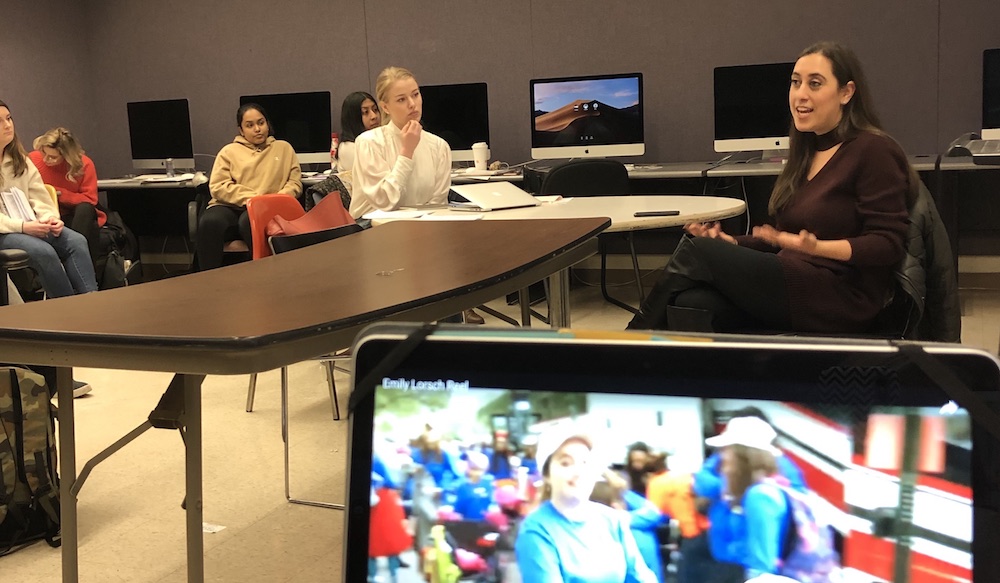 A News12 multimedia journalist gave Hunter News Now students tips on visual storytelling last week.
Emily Lorsch, pictured at left, visited Professor Sissel McCarthy's Studio News Production class and took students through her mental checklist that helps ensure she has enough video and soundbites to put together a compelling story.
Lorsch shoots, writes, tracks and edits all her own packages for News 12 in Brooklyn.
Whether it's a breaking news story or an event, she said to be sure to get your interviews done first. "I do this so I'll know what other video I'm going need," explained Lorsch, who makes a mental note of anything the source mentions so she can shoot that after the interview.
Then she gets the establishing shot and a fairly quick pan left to right and right to left of the scene. At this point, she focuses on shooting b-roll of everyone she interviewed and whatever they mentioned.
'Now if I do one story in a day, that's a really light day.'

— News12 multimedia journalist Emily Lorsch
Lorsch added that she is always thinking about sequences and getting wide, medium and tight shots to tell the story.
The last thing she shoots is her stand-up. "Ideally, you want to be doing something. Be active," Lorsch said.
One final tip — she uses Siri to log her soundbites by dictating them into her phone. This saves lots of time when writing her script.
Lorsch was in Prof. McCarthy's news video reporting class at Emory University back in 2014. She reminisced that deadlines in those days were several weeks for one story.
"Now if I do one story in a day, that's a really light day," Lorsch laughed.