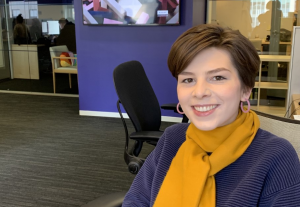 Amy Russo, a 2017 graduate of the Hunter Journalism Program, this month is joining NBCUniversal as an associate producer with Quibi, a mobile streaming service set to launch in April. 
The app, an abbreviation meaning "quick bites," will give users short-form shows and movies featuring big names like Chrissy Teigen and Idris Elba. 
Quibi will also offer regular news programming to give viewers a snapshot of the day's happenings in mere minutes. 
That's where Russo's role comes in. As part of the news team, she'll be helping to pitch stories and write scripts that make up Quibi's shows.
"I'm thrilled to be jumping into a new venture with talented colleagues," Russo said. "And I am confident Quibi has tapped into the future of news and entertainment."
Russo had previously gained attention for a 2017 Pulitzer Center fellowship that took her to Sweden to report on refugee children there, reporting that was later published in Foreign Affairs.
---
Are you a Hunter College journalism alum landing a new job you'd like to tell the Hunter journalism community about? Share the details here. And congratulations!