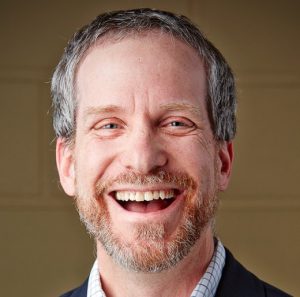 More than 400 Hunter College students got a guided tour of the environmental reporting field earlier this week when A. Adam Glenn, a distinguished lecturer in the Hunter Journalism Program and a long-time environmental journalist, spoke to two sessions of Introduction to Media Studies (Media 180).
During the Oct. 7 guest lectures, which Media 180 host Professor Robert Stanley called "highly engaging and informative," Glenn talked about some of the unique challenges facing environmental journalists.
Among them, he said, are the mandate to cover not only readily visible problems, such as polluted air, water and land, but also invisible concerns, like toxic chemical contamination and climate change. Environmental journalists must then "connect the dots" between environmental challenges and related economic, social, political and public health issues.

Glenn, who this spring is launching a new Urban Health & Environment Reporting course at the school, spotlighted other burdens affecting environmental storytellers, even beyond the economic disruption and job cuts that have affected all news media in the wake of the transformation to digital.

One big challenge, for instance, is that many major environmental problems, like climate change, develop slowly over time, making it difficult to get attention in a fast-moving news context. "As my colleagues in the field say, environmental news often doesn't really break," explained Glenn. "It 'oozes.' "
Another major stumbling block is how environmental reporters are sometimes painted as "green activists" whose reporting is then dismissed. And like other journalists, he added, environmental writers are vulnerable to manipulative politicians and experts who push them to "frame" issues in narrow ways that benefit those sources rather than the public.

Bridging information gaps, ID'ing problem-solvers
Glenn's talk hit on some more positive developments as well. He argued, for example, that the news media is starting to use clearer language in describing environmental challenges, to help bridge information gaps that stymie community understanding and action.
Journalists are also starting to focus more on identifying problem-solvers and scrutinizing proposed solutions, he added.

Glenn also cited as a promising development the prospect for journalists to leverage digital to better engage communities online and to offer more explanatory journalism. Those approaches can give citizens the information needed to better understand and improve their world, he added.

At the same time, Glenn concluded, while journalists must not give up their independence and the mandate to report truth fairly and fully, they should freely embrace their own role as participants in our representative democracy.

Check out Prof Glenn's slide presentation, plus watch a video of the first of his two talks.
And learn more about his new Urban Health & Environment Reporting course at a journalism program pizza party open to all on Wednesday, Oct. 23 from 1-3 p.m. in the TV Studio (HN 436). RSVP here.