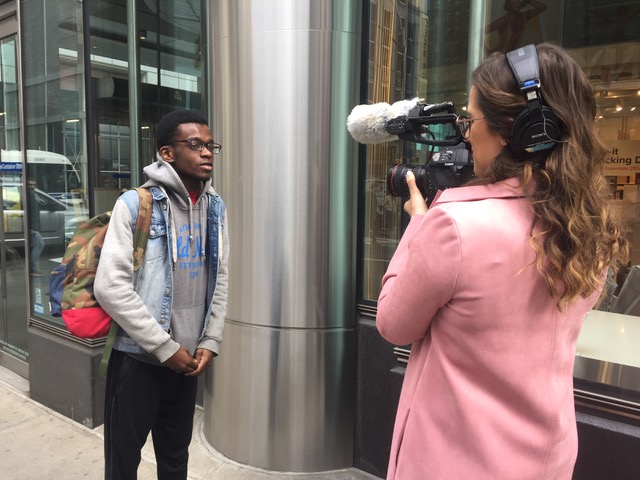 Reporting and Writing 2 students found themselves on the other side of the camera on May 9 on their way to visit media giant Bloomberg.

Videographer for Bloomberg's @TicToc, Madison Mills, interviewed several of Professor Sissel McCarthy's students, asking them what they thought about that day's New York Times opinion piece about breaking up Facebook.

After a few vox pops on the sidewalk, students went on a tour of Bloomberg's headquarters that included a visit to the TV studio control room and the 29th-floor cafeteria with a killer view of Central Park and the Upper East Side.

They also met up with Bloomberg's college endowments reporter Janet Lorin and multimedia journalist Alexandra Stratton.

Stratton, who just graduated from the University of Oklahoma 18 months ago, told students she started as an intern and then was selected for the company's 18-month training program.

For the last year, Stratton's been rotating through different parts of the newsroom, working with the TV news team, the US and Latin American markets group and now the investing desk.

Stratton, who graduated with a degree in multimedia journalism, told students to keep working on their writing. "It's also so important to have a portfolio with at least five clips," Stratton said. "You have to show rather than tell you can write."