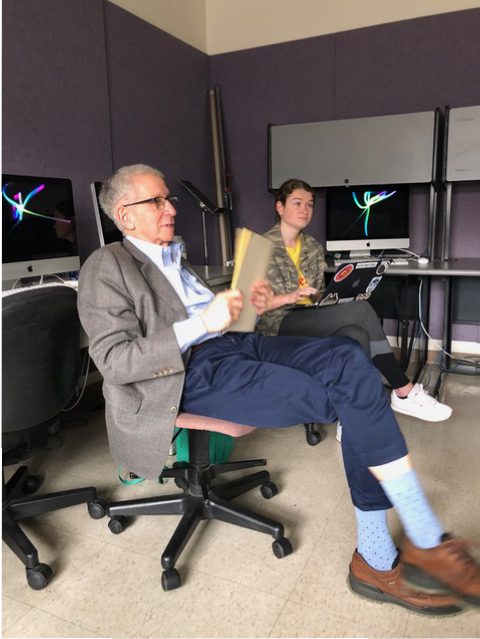 Professor Sissel McCarthy and one of her favorite journalism professors were back in the classroom together on May 1 after more than 25 years.

Lloyd Siegel, a 44-year veteran journalist of NBC News, visited McCarthy's Studio News Production class to critique the latest Hunter News Now show.

Siegel taught newsroom management at Columbia's Graduate School of Journalism back in the 1990s during and after stints as a reporter, field producer, line producer, executive producer and vice president for news partnerships with NBC affiliates.

Siegel said he watched the fourth Hunter News Now newscast of the semester three times, making note of the many things students were doing right.

"I am really impressed with how you're serving the Hunter audience," said Siegel, who particularly liked Krystie Calle's story about scholar-athlete of the week Skylar Gill and Alexandra Ali's piece on the African Student Union's fashion show.

"Your newscast showcases all the diversity, aspirations, ambitions and hard work of the Hunter community," Siegel said.

He also shared some storytelling tips to help students make their packages even better, including one of the most important lessons he learned as a rookie reporter.

"There's only one story per story," Siegel said. Although he understands the temptation to include everything that happened, Siegel explained it's much better to do one story well. "Decide on the story, then more reporting and more facts."