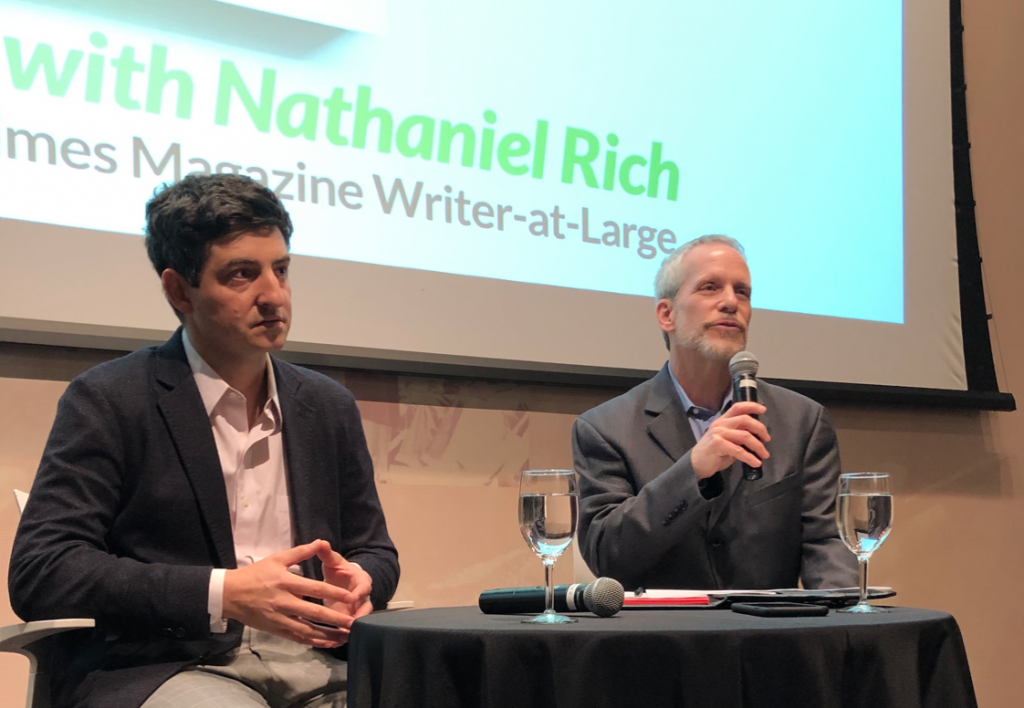 Award-winning author and New York Times writer-at-large Nathaniel Rich drew 150 attendees, including 80 Hunter College students, to the journalism program's annual Pulitzer Center talk at the Roosevelt House on April 8.
Rich used the 60-minute discussion, moderated by A. Adam Glenn of the Hunter journalism program and punctuated by questions from students and others, to provide insights into his unique approach to reporting on climate change.
His Pulitzer Center-supported project, "Losing Earth," was a historical narrative exploring the decade of 1979-1989, when scientists, experts and policymakers came remarkably close to decisive action on the climate change threat. The resulting piece, which filled an entire issue of the New York Times Magazine last August, is believed to have been the longest story ever published by the paper of record. 
In a later video interview with Hunter journalism student Caitlin Munson, Rich argued action on climate change could still have an impact. "It's too late to avoid some of the negative scenarios that were perceived as early as 1979," he explained, "but that doesn't mean we can't avoid a lot of worse things that would otherwise be on the pipeline."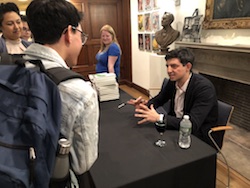 Rich followed his talk with visits the next day to two Hunter journalism classes. He first spent an hour talking with students in Glenn's Reporting and Writing 1 class, discussing prospects for climate activism, especially among youth around the world who are protesting its coming impacts as a moral issue, as well as some of the journalism writing and reporting techniques he used in his report.
He also visited visited Professor Steve Daly's News Literacy class, giving the students insight on the New York Times' fact-checking procedures.
Said Daly, "Students seemed especially interested to hear about the rigorous fact-checking procedures at the New York Times, where a team of 7 to 8 researchers checked every line of Rich's 30,000-word original magazine story."
Daly added, "Rich passionately conveyed just how much responsibility the oil and gas industry bears for deliberately misleading the public about the severity of global warming."
A smaller group of top Hunter journalism students also had the chance to break bread with Rich at an invitation-only luncheon, where he talked informally about their career prospects and gave valuable professional tips to the dozen or so attendance.
Student Lucien Formichella, who attended the luncheon –– said later how important it was to learn more about journalism directly from a writer like Rich.
"I try to take every opportunity to speak with working journalists because they offer a perspective that you just can't get from reading books and articles," said Formichella.
Prof. Sissel McCarthy, director of the journalism program, also expressed gratitude to Rich for sharing his time and knowledge with students.
"Meeting a journalist and writer like Rich is very inspirational to us all, but especially the students," she said, adding, "We can't thank him enough for sharing his thoughts, work and time with our students at the Roosevelt Center talk and during classroom and lunch sessions."
Added Film & Media Department Chair Kelly Anderson: "We really appreciate all that the Pulitzer Center's Campus Consortium does for Hunter and especially for our students. The events were a huge success by all accounts."