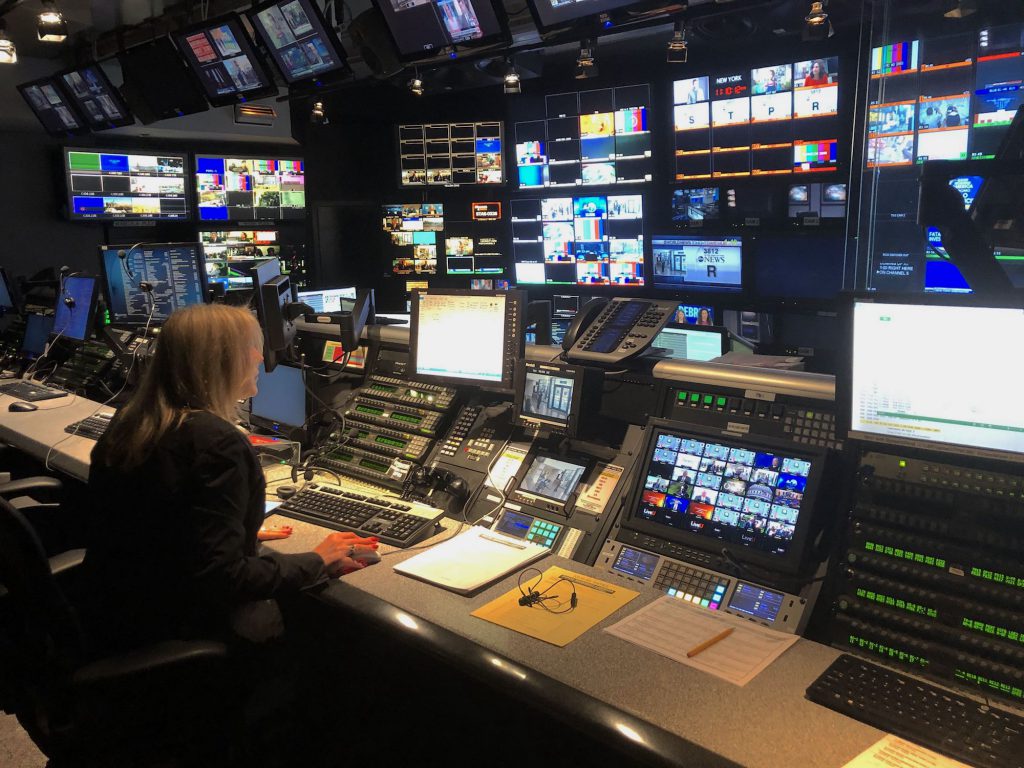 Hunter journalism students were invited to explore the core of ABC News broadcast operations in late March, as part of a pair of tours organized by Prof. Adam Glenn, a former senior producer at the network.

Nearly 30 students from Glenn's two Reporting and Writing 1 classes wound their way through technical facilities, newsrooms and studios at the network's headquarters on the Upper West Side on March 25-26, meeting with graphic designers, editors studio and operations managers, and others.

Among the ABC News managers and staff who briefed students were Doug Looney, director of post production operations; Jason Alper, senior manager of program operations, and Nicholas Nocera, a technical production coordinator.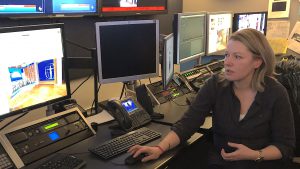 Also wowwing students were members of a graphic design team who showcased sophisticated 3D modelling they had used to recreate scenes such as of plane crashes and sinkholes for onair news stories, as well as to create innovative virtual reality and augmented reality projects covering topics like royal weddings and heart disease.

Students were also shown video editing operations for network programs like 2020 and Good Morning America, as well as a media technology center that acts as a nerve center for the intake and distribution of vast amounts of video for the network and its various programs and other operations, including on-air, social media and video on demand.

In addition, the tour took the aspiring journalists to a central TV control room, which tracks remote feeds from around the world, and then the main TV studio where robotic cameras capture shows like World News Tonight.
Operations a collaborative atmosphere
Several of the ABC News staffers discussed their professional path at the network, noting that they often began their news careers with internships and shift work as a way to get a foot in the door before more permanent opportunities became available.

And all emphasized broadcast operations' collaborative, all-hands-on-deck atmosphere. One producer who talked about the value of pitching in where needed as a way to show your value to the news operations, regardless of your formal duties, joked: "It's not your ability, it's your availability."

ABC News' Looney, who manages 400 shifts a week of 150 editors, encouraged students to learn editing technologies and other aspects of behind-the-scenes operations. But he added, in response to a student question about which production tools to learn, "Don't get hooked into one system. It's just a tool."

Looney also encouraged students to focus on their writing skills regardless of the medium they hoped to work in, noting "If you can write a good story, then you can do one visually."