ProPublica senior reporter Jack Gillum visited Prof. Pam Frederick's News Literacy class in December to discuss investigative reporting and the techniques he uses to cover the intersection of technology, data and civil rights — in other words, how algorithms affect our daily lives.
Gillum describes investigative journalism as being about the "why" and not the "what."
His work at the Associated Press broke the story on the existence of Hillary Clinton's private email server, as well as a U.S.-backed "Cuban Twitter" program that secretly mined data for political purposes.
At The Washington Post, he reported on mismanaged tax payer funds and troubled relief efforts in Puerto Rico.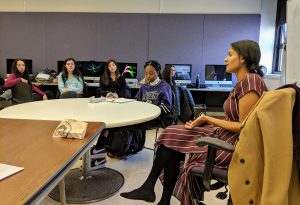 Gillumm's goal, he said, is to do stories that really affect people. But that can come with a personal price. "It can get very overwhelming," he said, about the pressure to get it right. The night before, he says he stays up wondering, "Did I get it right? Should I make that last call?"
But a story like a recent one on faulty election computers in Georgia published a week before the elections can really make a difference. "When the story comes out, you realize it's overwhelming for a reason."
The class heard as well from Neha Prakash, senior editor on the social news desk at Condé Nast, and recently trending editor for Brides magazine.
Accuracy matters, she told the class, whether you are reporting on politics or music or culture. She tries to hire reporters who have journalism training, even for social media jobs.
"It gives me that sense of relief that I can trust them," she said. "We need journalism, not just aggregated content, and we need to be able to trust it."
Fairness is also key, she said, even when you are reporting on celebrities. "Those principles don't just die because we are reading Buzzfeed-y articles. It totally matters."