Prof. Pam Frederick's Neighborhood News class, which publishes the Hunter Athenian, got a tour of The New York Times and a chance to talk to a longtime editor and reporter at the paper's offices in midtown.
Nick Fox, currently on the editorial board and an editor at the paper since 1995, gave students a tour of the Pulitzer Hall, where the Times has framed all the stories that have won the prize since its inception.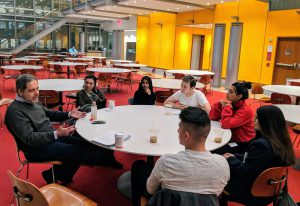 Fox annotated his tour with explanations of the stories behind the stories, and notes on milestone moments in journalism.
The students also got to talk with Ken Belson, who covers football for the Times, with a specialty in the intersection of sports and business. Belson joined the Times staff in 2001 covering business in Japan for the Tokyo bureau, then moving to the metro desk, the business desk and finally the sports desk in 2009.
Belson took questions from students about learning how to finesse relationships with press representatives, being trusted and reliable as a reporter, building — and keeping — a career in news.
Students in the class also had a visit from Pedro Rosado, whose digital production company produces audio and video content for the Times and others.
Rosado was at the Times for 26 years, starting in print and moving to video and then producing the Times' podcasts, including The Daily.
Rosado told students they had a great responsibility to relay what's happening in the world, responsibly and ethically.
"It doesn't matter what you're reporting," he added. "It's the same responsibility. There are stories everywhere."
He had one mantra for students: "Learn your craft." And these parting words: "Learn your craft. Bust your ass. Change the paradigm."