An urban photography exhibit at Manhattan's El Museo del Barrio served as an impromptu classroom for several advanced reporting and writing students earlier this month, as they learned how images can be used to tell effective stories.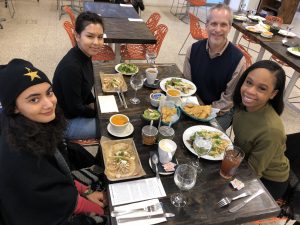 As part of an informal "scavenger hunt" arranged by Prof. Adam Glenn, students explored the "Down These Mean Streets: Community and Place in Urban Photography" exhibit.
The temporary exhibit featured the work of ten documentary photographers who captured inner-city street life in neighborhoods of New York and Los Angeles.
The students looked for qualities in the photos such as light, action, emotion, framing, etc. They then shared what they found over a lunch of Latin cuisine at the museum's cafe.