Hunter journalism students spent the afternoon on Dec. 13 touring the newsroom and studios of cable news channel NY1 in Manhattan's Chelsea Market. The half-dozen students, led by Prof. Adam Glenn, met with an array of on-air reporters, producers and technical staff, and learned about the inner workings of a 24-hour news operation.
The tour was hosted by Associate Producer Elijah Stewart (Hunter Film & Media '13, a one-time student of Glenn's). Stewart shared extensive detail about how stories are assigned, reported, scripted, produced and edited at the New York-centric channel, often under very tight deadlines (in fact, just prior to greeting the group, Stewart had rushed to produce a last-minute piece on President Donald Trump).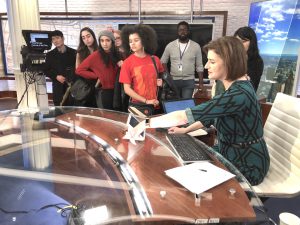 During the tour, students watched a business segment airing live, observed a spot news segment about a bomb threat hoax being produced, and learned from a news desk editor about the importance of assessing the credibility of story tips and asking the "why" that makes something a story or not.
They also learned from staff members how they got jobs at the channel by learning to get their foot in the door through internships and freelancing, and then were ready for any task to show their enthusiasm for the work.
In addition, the students met with on-air correspondents such as transit reporter Jose Martinez and political anchor Errol Louis, who hosts the nightly primetime "Inside City Hall" telecast. Louis conducts a weekly interview with Mayor Bill DeBlasio, and talked with students about questioning powerful politicians. "Part of holding people accountable is keeping track of what they say," noted Louis, adding that when asking tough questions "you can get away with a lot if you smile."
Criminal justice reporter Dean Meminger shared some of his experiences during his 20-plus years at the channel, and emphasized how important it was to have a passion for storytelling. "Make sure you have fun," said Menninger. "If not, step off and do something else."
Seeing off the students at the end of the tour was award-winning mid-day anchor Roma Torre. She gathered the students around her anchor desk, emphasized that storytelling is key to good journalism and exhorted them to seek out the "guess what?" hook that would draw in their audience.