The news team at CUNY TV welcomed Prof. Sissel McCarthy's news video students to its state-of-the-art studio Monday, Oct. 22, at the CUNY Graduate Center on 5th Avenue.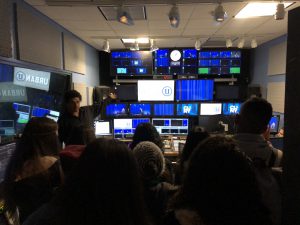 Director Gail Yancosek gave students an overview of CUNY TV's mission and the shows it produces about public affairs, the arts, science, immigrants and business, plus a new 7 p.m. newscast it will soon be producing along with Cheddar, a live streaming news network launched last year.
For the first time ever, CUNY TV will also be hosting a live election night newscast on Nov. 6 that will include a panel of CUNY students discussing issues and the midterm results.
Reporter Tinabeth Piña talked about how the news industry is changing, noting that a lot of the content that people used to watch on TV is now being consumed in 2-5 minute snippets on social media.
She urged students to embrace multimedia journalism and post their work across as many platforms as possible. She and the production team also encouraged students to work on their writing and research skills, practice shooting with a high-definition camera, learn how to edit using Premiere Pro and always be prepared with a Plan B.