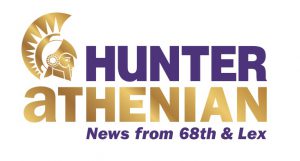 The students in Hunter Journalism's Neighborhood News, MEDPL 377, launched a news site for the college this week: the Hunter Athenian (hunterathenian.com), named for the college's patron deity, Athena, goddess of wisdom.
The web and mobile site will be written by and for Hunter students and will publish new stories weekly. The site is also on Instagram at @hunterathenian, and on Twitter at @hunterathenian.
The first issue included coverage of the nascent Hunter Theater Project's hit production, plans for the cafeteria and Supreme Court Justice Elena Kagan's honorary degree.
Students in other journalism classes can submit stories about the college through their professors for publication. Got tips? Ideas? Things that bother you? Write the staff at hunterathenian68@gmail.com.
For information about publishing your stories, email Professor Pam Frederick at pamfrederick80@gmail.com.