"[If] you don't fight for your home, you're gonna lose it," Frances Goldin, a community activist until her death in 2020, says in the new documentary, Rabble Rousers: Frances Goldin and the Fight for Cooper Square. So Goldin fought, and won.
The film, directed by Ryan Joseph, Kathryn Barnier and Kelly Anderson, details how Goldin spent her life defending Cooper Square, a small neighborhood bordered by 3rd Ave. to the east, 4th Ave. to the west, E. 4th St. to the south, and St. Marks Place to the north. After a 50-year battle, Goldin and her fellow activists won the rights to the land, allowing them to build New York's first community land trust. Rabble Rousers weaves together accounts from members of the movement with archival footage to tell the long and tumultuous history of Cooper Square.
Rabble Rousers was released in March with three screenings at the DCTV Firehouse Cinema in Chinatown that included Q&As with several people involved in the making of the film. Later, DCTV added 10 more screenings to accommodate growing audience interest.
In the mid-1900s, Cooper Square was made up of all kinds of people who had one thing in common: they were poor. Goldin, and other residents of Cooper Square, fought Robert Moses, New York's so-called "master builder," to keep Cooper Square ungentrified. While never elected to a government office, Moses managed to get close to those who were and effected major changes to the city, building parks, parkways, bridges and tunnels.
But, as Tom Angotti, an urban policy and planning professor at Hunter College, says in the film, "Intrinsic to urban renewal is urban removal." Moses often drew plans with little to no regard for the people they displaced. He specifically targeted low-income neighborhoods knowing their residents would not have the means to fight back. Cooper Square was the exception. "If we can get rid of that son of a bitch we can do anything," says Goldin in the film.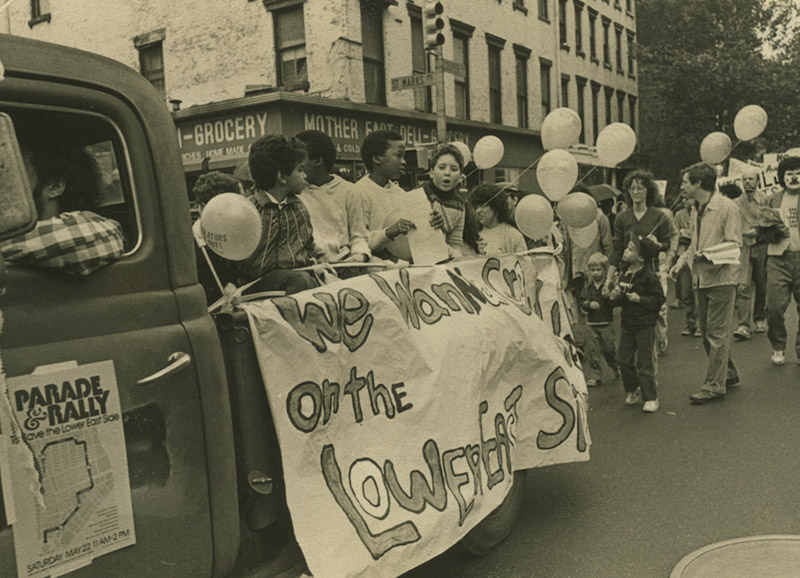 Goldin was interviewed in her home library in the rent-controlled apartment on E. 11th st. that she lived in for 40 years, sporting a pixie haircut, a purple t-shirt declaring "Save the Lower East Side" in multiple languages, and pins with slogans like "Tax the Rich." In the film, she recounts growing up in Queens, where her Russian Jewish family was "shunned by the Christians [and] shunned by the Jews."
Goldin says she first encountered anti-semitism as a child when she got into a fight with a classmate. A crowd of other kids encircled them, yelling "Kill the Jew, kill the Jew!" Shortly after that incident, Goldin's family moved to Cooper Square, where immigrant families, Jewish and not, were able to live safely without giving up their culture. "[Cooper Square] is not a melting pot, but you can be who you are," Goldin says.
Production on Rabble Rousers began in 2008, when two graduate students at Hunter — Ryan Joseph, who was working on his MFA in the Integrated Media Arts (IMA) program, and Dave Powell, who was studying urban planning — took a class developed by Kelly Anderson, chair of Film and Media, and Tom Angotti, of Urban Policy and Planning. The class paired graduate students from each program to make documentaries about local communities and their policy issues. Joseph and Powell chose to cover Cooper Square because of its fame as one of the only success stories to come out of Robert Moses's reign. When the semester ended, Joseph continued to work on the film as his thesis project, with Anderson as his advisor. Powell had to step away once he became the president of the Cooper Square Mutual Housing Association (MHA) due to the conflict of interest.
Joseph worked hard to get to know Goldin, who chose her confidants carefully, and credits her with helping to shape his ways of thinking. "The story preserves Frances's contributions to the housing movement, and it acknowledges how much of a trailblazer she was," Joseph wrote in an email. And, "more importantly the documentary gives visibility to working and marginalized people who are capable of doing magical things when the opportunity presents itself."
Around five years into the film's production, Anderson joined the team as a director and producer. "This project grew out of a student project at Hunter so I'm especially proud of it," said Anderson, whose previous seven films include the acclaimed documentaries My Brooklyn and Every Mother's Son.
Like most low-budget documentaries, Rabble Rousers took years to finish. "We used to joke [that] it took 50 years to make this film," said Anderson, the same amount of time it took Goldin and Cooper Square to win their fight.
When Anderson was in college, at Brown University in the 1980s, she first wanted to be a journalist. She became interested in documentary filmmaking after taking a class on the subject. "It's really powerful to be able to show visual evidence and personal testimony and all those things that are a part of nonfiction filmmaking," she said. "I was trying to move the needle on social issues, and I felt documentary was a good way to do that."
As department chair, Anderson believes her students have the skills to accomplish anything. "Our students come with a seriousness about the stories that they want to tell and they come from diverse life experiences," she said. "I think that translates into really strong storytelling, whether it's journalism or media, film, nonfiction or fiction." The greatest resource they have, according to Anderson, is the faculty. "Definitely go to their office hours," she said.
After the March 27 showing, Joseph moderated a Q&A with Joyce Ravitz, president of the Cooper Square Community Land Trust, and Reeni Goldin, Frances Goldin's daughter. Questions ranged from technical, like one, from an urban planner, about the specifics of the Community Land Trust, to personal, like what it was like having a "powerhouse of a woman" as a mother. "She loved us fiercely," answered Reeni.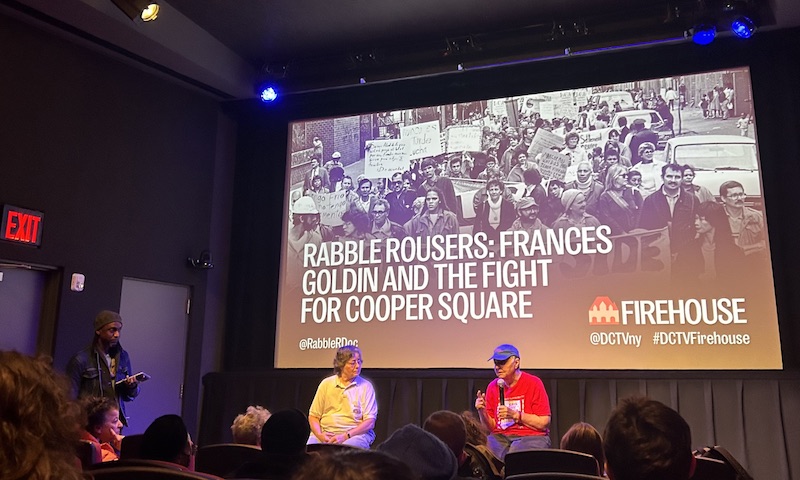 Ravitz said that Goldin, who suffered from dementia near the end of her life, used to say that she did not want to be forgotten. "Never gonna happen," she said.
Rabble Rousers will be screened on May 11 at 6:00 p.m. at the Roosevelt House. After the showing, there will be a Q&A with department chair Kelly Anderson, and urban policy and planning professor Laura Wolf Powers. To RSVP, go here.