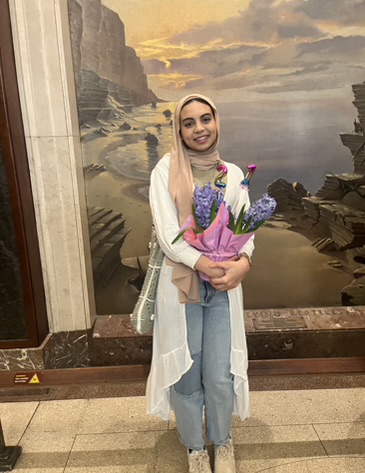 Laila Gad came to Hunter College to prepare for a career in medicine. But after she took a course titled Peopling NY through the Macaulay Honors College, Gad became fascinated with climate change and its effects on public health. She decided to add a second major in journalism, to explore this interest and to find ways to write about it for a wide audience.
Gad, whose family is Egyptian, was also motivated by the persecution journalists in her home country experience. She notes that journalists in Egypt face censorship and imprisonment for their reporting. For her, she said, journalism offers a way "to talk about stories that I know are always being suppressed."
The Macaulay Honors College junior received this year's Pulitzer Center Student Reporting Fellowship, and will use it to report on heat and aging in Singapore over the summer. She sees this as a developing field of research and she wants to be on the "pioneering front" of covering it.
Gad will focus on Singapore's policies regarding seniors and the government's heat-related initiatives, such as establishing cooling centers. Gad said the country has seen a series of heat waves in recent years, which are projected to only get worse. She plans on talking to older adults about their experiences with heat, and with researchers on how they're trying to make these policies "for everybody in the country."
"I chose Singapore because [it's] really on the forefront of aging innovation and moving towards a more aging-friendly society," said Gad.
Gad said that her "life goal" is still to be a doctor. She receives mentorship through the New York Department for the Aging, reads journals like The Geriatrician and receives mentorship from doctors in the field. She hopes that through her reporting and time in Singapore, she can bring back ideas on how to better support older adults in the United States.
"I'm really committed to learning more about what ails [older people] and how we can help them age more gracefully," said Gad. "Aging shouldn't be a death sentence."
Gad believes the fellowship will be an important step forward in her journalism career. While she's already been reporting on the environment through her internship with InsideClimate News, Gad says her project in Singapore stems from an idea she developed entirely on her own. She sees the field focusing more on the intertwining of health and climate change in the future, and believes that her project will help "catapult" her into this burgeoning area.
Gad advises students interested in the fellowship to follow their instincts."I would encourage them to be true to their own ideas," said Gad. "Don't report on what you think will get you the fellowship; report on what's passionate to you."