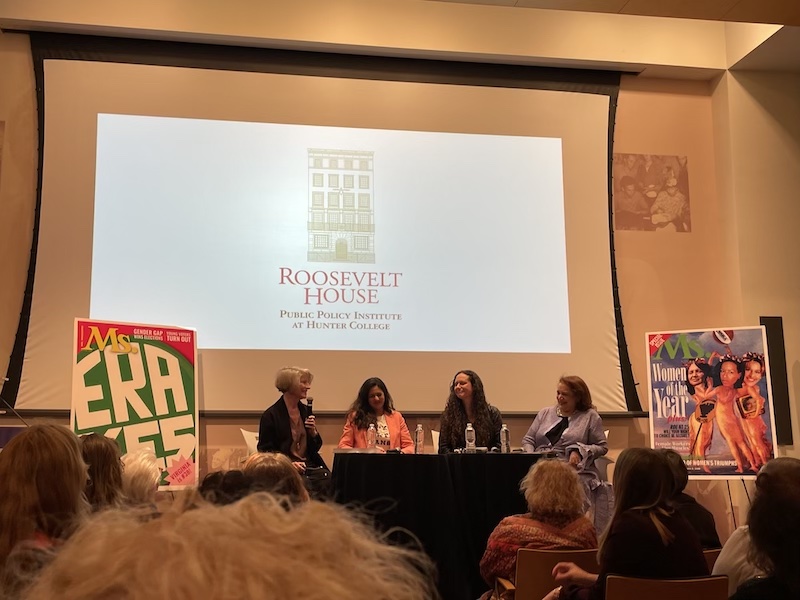 The Roosevelt House commemorated the 50th anniversary of the iconic feminist magazine Ms. on Thursday, April 27th.
During her opening remarks, President Jennifer J. Raab presented Ms. executive editor Kathy Spillar the Eleanor Roosevelt Award in recognition of the work Ms. has done over the past half-century. Spillar said this was the first of many events that will mark the magazine's anniversary.
"We have a lot to celebrate," said Spillar. She announced that Knopf will publish 50 Years of Ms., a collection of the magazine's best pieces, on Sept. 19. Founded in 1971 by the activist and journalist Gloria Steinem, Ms. was the first feminist magazine in the United States that was written by women for women. The magazine sought to bring stories of feminism and the women's movement into the mainstream.
The 50th anniversary event included a panel discussion on the impact Ms. has had as the first national feminist magazine in the U.S. and on the current state of women's issues. Panelists included Spillar, educator and Feministteacher.com editor Ileana Jimenez, and Global Justice Center president Akila Radhakrishnan. The discussion was moderated by Cynthia Lopez, a Hunter College alumna who is now the CEO of New York Women in Film & Television and a Hunter College Foundation trustee. Members of the audience received a copy of Ms.'s 50th anniversary issue and could sign up for a free one-year subscription.
The event came right after the U.S. Equal Rights Amendment was blocked once again earlier that day. Eleanor Smeal, president and cofounder of the Feminist Majority Foundation, was supposed to join the other panelists but was in Washington D.C. voting for the ERA. Given the event's timeliness, Spillar stated that Ms. is the only magazine to have covered every step of the ERA journey after it was passed by both houses in Congress and was sent to states for ratification in 1972. She added that it became a "community for feminists" to explore ideas and stories together, along with informing readers about who feminism's opponents are.
"I look to Ms. for having your experience visualized," said Radhakrishnan.
The conversation turned to reproductive rights and the Supreme Court's overturning of Roe v. Wade last June. Jimenez, a high school English teacher, said that every year her female students write about topics ranging from menstruation to the lack of sex education in schools, and are "frightened" that reproductive care, like abortion, is becoming inaccessible. Radhakrishnan emphasized that the voices of communities who need access to these services must be centered, as should listening to valid critiques of both the abortion and women's movement as a whole. She noted that it's important to look to what feminist movements are doing across the globe for inspiration.
The panelists also covered the issue of book banning in classrooms. Jimenez spoke about teaching her students works such as Audre Lorde's Sister Outsider in her classes. She said she wants parents to be more proactive by asking what books have been banned, which can lead to local interventions and outreach to teachers who may want to teach such critical texts.
Jimenez said that confidence starts in the classroom and that to continue this fight we "have to start with young people."
The panelists concluded their dialogue on a hopeful note, pointing to the younger generation being heavily involved in feminism. They agreed that this is an intergenerational movement, noting how the older and younger generations of feminists can learn from one another to continue fighting for progress.
"The patriarchy never gives up," said Spillar. "We're going to win this eventually because women are not going to go back."
50 Years of Ms. can be preordered here.