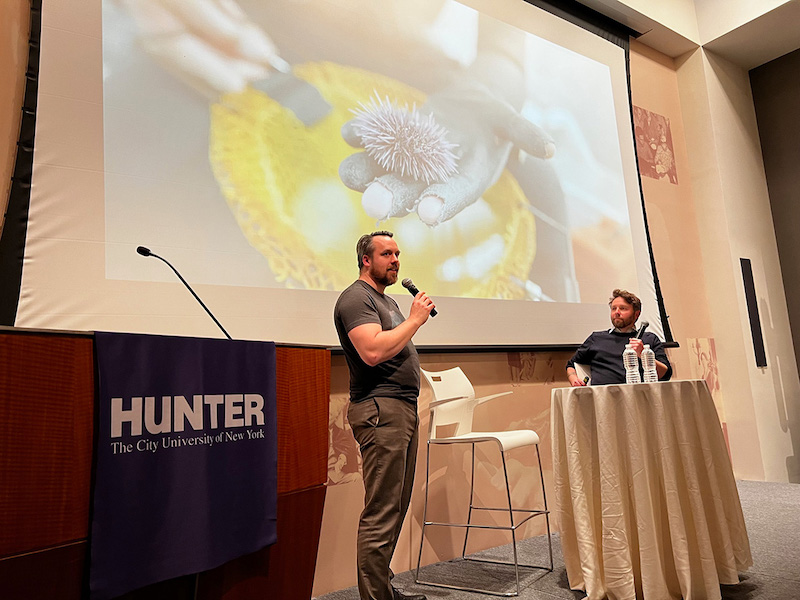 Award-winning documentary filmmakers Andrew Robinson and Dominic Smith visited Hunter College and the Roosevelt House on Tuesday, April 18th to talk about their film The Vanishing, Invisible Forest: Telling Climate Stories. Funded, in part, by the Pulitzer Center, the project focuses on vanishing kelp forests, a natural aquatic habitat, and how their disappearance—due to rising Earth temperatures—affects aquatic life. Smith and Robinson touched on how they used underwater videography to research and capture the damage being done.
Friends and collaborators since college, the pair founded Smith Robinson Multimedia in 2019 to produce science and outdoor documentaries. Their recent work focuses on the climate crisis.
"When you go outside now, every story becomes a climate change story," Robinson said during the presentation on Tuesday. He and Smith aim to tell these stories with a new angle.
Their project examines how warmer oceans lead to more bacteria in the water, which in turn leads to a phenomenon called "sea star wasting syndrome," which kills sea stars by causing decay on their bodies. With the sea stars gone, purple sea urchins, or "zombie urchins" (sea stars' food) are overpopulating the sea floor and devouring kelp forests. With the kelp forests gone, the wildlife that once inhabited them die off as well.
With a tight shooting schedule, and the subject of their documentary being underwater, Smith and Robinson needed to get creative in making the film. They used an underwater drone to capture most of the footage—practicing the day before in their hotel's pool—and hoped for good weather conditions on the days of the shoot.
"Nature isn't always on a schedule to work with you," said Robinson.
As far as a future solution to keep kelp forests alive, Smith said, "Science doesn't always have an easy answer." He hopes that shedding light on an underreported threat will bring about some change.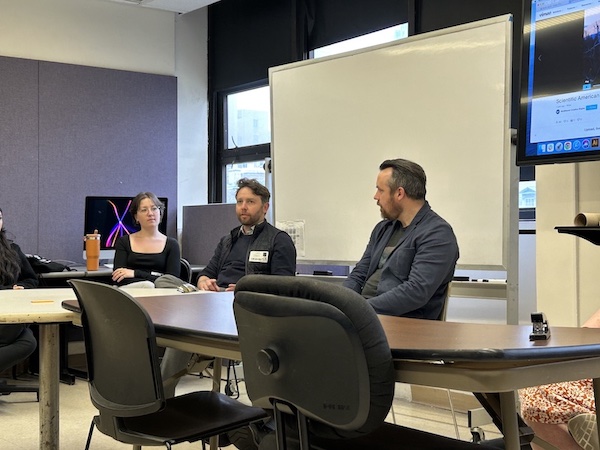 Prior to the event at the Roosevelt House, Smith and Robinson spent the day at Hunter College doing classroom visits and having lunch with Hunter journalism students. They discussed their work and how they broke into—and stayed in—the fields of journalism and media.
They encouraged students to focus on telling stories they are passionate about but reminded them to advocate for themselves financially, and to get creative with the jobs they accept.
"Everybody wants to tell a story, but there's a business component too, which is critical," offered Smith.
After Robinson and Smith's presentation, the pair answered questions from the audience. One student asked how they deal with climate change skeptics. "It's not a conjecture anymore," Robinson said without hesitation. "The proof is in the pudding."
Their work, The Vanishing, Invisible Forest: Telling Climate Stories, can be seen through Scientific American here.