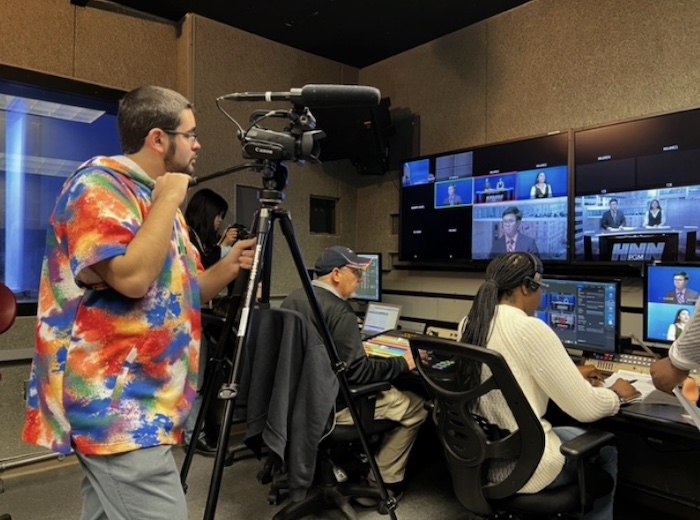 Hunter College's journalism program has grown significantly in recent years, with more students enrolling, working journalists coming in to teach and new courses being added to the curriculum.
Professor Sissel McCarthy, distinguished lecturer and director of the journalism program, said that when she joined the department in 2015, the curriculum was heavily print- and text-based. She updated the program to include courses on reporting across platforms such as radio, TV, podcasts and social media. Today, there are 133 journalism majors and minors compared to just 45 in 2017. "We've almost tripled," said McCarthy.
Nine courses have been added to the program over the past eight years, including Data Journalism, where students learn to access, comb through and visualize data for their stories. According to Prof. McCarthy, Hunter is one of the first CUNY schools to offer it as part of the curriculum. Core classes like Reporting and Writing I & II have been modernized to teach students how to develop their online presence by creating their own websites where they can publish their work. News Literacy in the Digital Age has also seen major changes, namely opening up to all majors and being approved as an alternative to English 220 for general distribution requirements.
Speciality courses for upperclassmen have been made available as well. Courses such as Social Justice Journalism, taught by Professor David Alm for the first time this spring, trains journalists on how to best identify and report on issues affecting underserved and marginalized communities. Another new course, From College to Career: Get Hired In Journalism, will be offered in the Fall 2023 semester. Taught by Professor Jeanie Ahn, the course aims to help students chart their paths after Hunter and prepare for their first internships or jobs in the field.
"It's going to really give students the edge that they need to get a job in this competitive job market," said Prof. McCarthy.
New faculty members have joined the department in the past year or so. Professors Keldy Ortiz, Kadia Tubman and Kaitlyn Wells have been brought in to teach different sections of News Literacy. Newcomers this semester include Professors Claire Tighe and Alyxaundria Sanford. Prof. Tighe is currently teaching Radio Reporting and Podcasting, while Prof. Sanford instructs Neighborhood News.
The journalism department has also held notable events recently. The Roosevelt House Public Policy Institute at Hunter College hosted a conversation between Hunter Journalism Professor Karen Hunter and Charity C. Elder to discuss Elder's book, Power: The Rise of Black Women in America.
Another event at the Roosevelt House, "Reporting Between Borders: A Conversation With Journalist Anna-Catherine Brigida," was moderated by Prof. McCarthy as she talked with Brigida about her report, "From Texas to Central America: How Tough Policies in the COVID-19 Era Are Endangering Asylum Seekers," last March.
Hunter students have benefitted from the growth of the program. Junior Aarsh Chauhan said that it's been an immersive experience that has taught him how to work within a newsroom and with his peers. By taking courses like Neighborhood News, he's been able to write for Hunter's online publication, The Athenian, and has become a finalist for the Pulitzer Reporting Fellowship.
Chauhan said that he wants to work as a foreign correspondent in the future, and if he gets selected it would be a "major breakthrough, major step into pursuing that."
Senior Nora Wesson has also gained plenty of knowledge and experience through the program. She's found that her classes have been intellectually stimulating and fresh, considering that they're taught by journalists currently working in the field. Wesson noticed that Hunter journalism students have maintained connections with one another not just for networking but also over their shared passion for reporting important and interesting stories across various mediums.
Like Chauhan, Wesson has found success as a Hunter journalism student. Last year she won the Beth-Ellen Keyes Memorial Scholarship from the New York Women in Communications organization, and this year she designed and helped launch Hunter's new online magazine site, The Arrow, with Prof. Alm. The site went live on Monday, March 13th. She's currently interning at CUNY TV as a production assistant for the show Urban U, where she reported, wrote and produced a segment about Brooklyn College's Women's Center.
"It's such a great, welcoming environment full of so many journalists that just want to talk to you and tell you everything that they know," said Wesson. "It's so rewarding to be here."