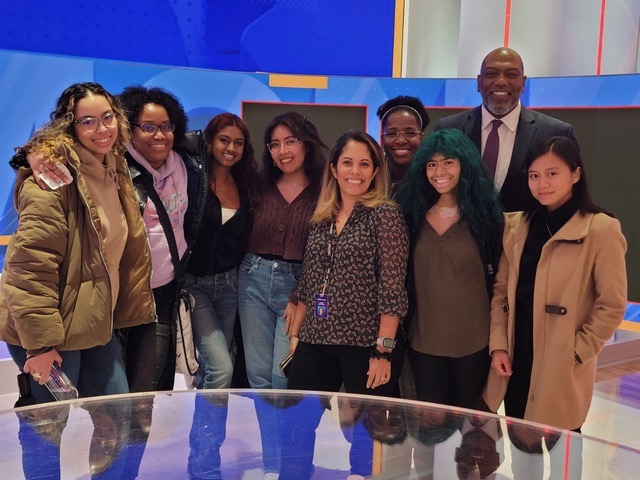 In February, Hunter journalism students toured MSNBC, where they saw the inner workings of the television studio, control rooms and newsroom.
The visit was organized by the Roosevelt House's JFEW program, which offers mentorship and financial support to young women pursuing careers in public policy and public service. Dr. Basil Smikle, director of the public policy program at Roosevelt House, invited students with an interest in media and journalism to join him at MSNBC.
"As someone who has just begun having an interest in journalism and broadcast TV, this visit was helpful in showing me the different roles people have in this area of work," said Allison Patino, a junior media studies major at Hunter.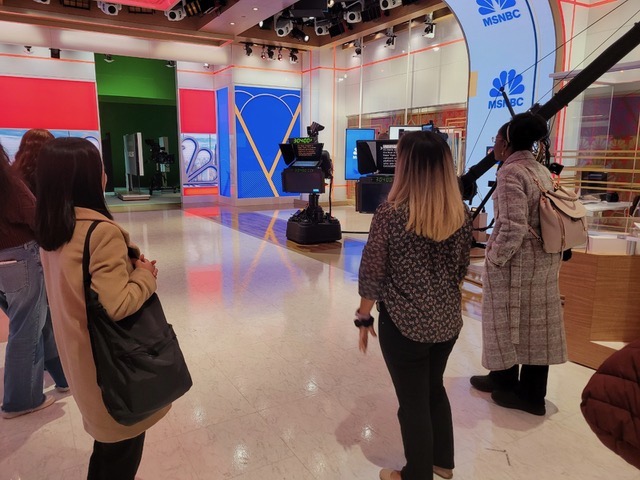 Marci Santiago, a Hunter alumna and current booking producer at MSNBC, welcomed the students into her offices, where she offered insight into how the news is produced, including how stories are selected and how visual effects are created on screen. She also offered advice on how to land internships and become successful in the journalism field.
Nethya Samarakkodige, who works as a social media student associate at the Roosevelt House, said that while she had visited NBC before "it was the first time [she] got to see the behind-the-scenes of it all, and actually see the amount of work that goes into a single TV segment."
While some say it was intimidating at first to witness what it's like working on a live broadcast, the JFEW students were quickly inspired by the number of women and young professionals they encountered at the studio. They described it as a great opportunity to network and gain confidence in their skills and future careers.