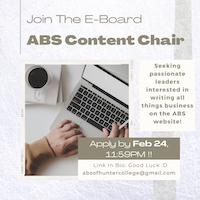 The Association of Business Students at Hunter College (ABS) is accepting applications for a new content chairperson until March 5 at 11:59 p.m.
The successful candidate will lead biweekly news discussions on the ABS website, ensuring that all news is from reliable and reputable sources. They will then write up the ideas discussed in clear, journalistic blog posts. Working with the website chair, they will make sure all content is accurate and up to date. They will also be responsible for writing articles on any topic related to business. A weekly e-board meeting is mandatory as well.
This position is open to all students, but journalism students looking to advance their writing, demonstrate their leadership skills and bolster their portfolios, especially on the business and finance beat, are particularly encouraged to apply. With the experience and skills developed in reporting and writing classes, as well as News Literacy in a Digital Age, journalism students are uniquely positioned to lead discussions on the ABS e-board. While the topics must be related to business news in some way, the chair will choose the specific direction. Fellow members of the e-board will provide feedback and help with final edits before the posts are uploaded.
The ABS strives to help business-minded students of all majors with career advice, finding job and internship opportunities and general business guidance through events like the Resume Writing Workshop and Finding Opportunities and Mastering Applications Workshop. Under Maria Dikler, the club's president, the ABS has created a website in hopes that Hunter students will use it to stay informed on business news. The site is still being set up, so the blog section has not been added. According to Dikler, "it will certainly have space for the content chair soon."
The application reflects an earlier deadline, Feb. 24. It has been extended to March 5. To apply, fill out the application here.