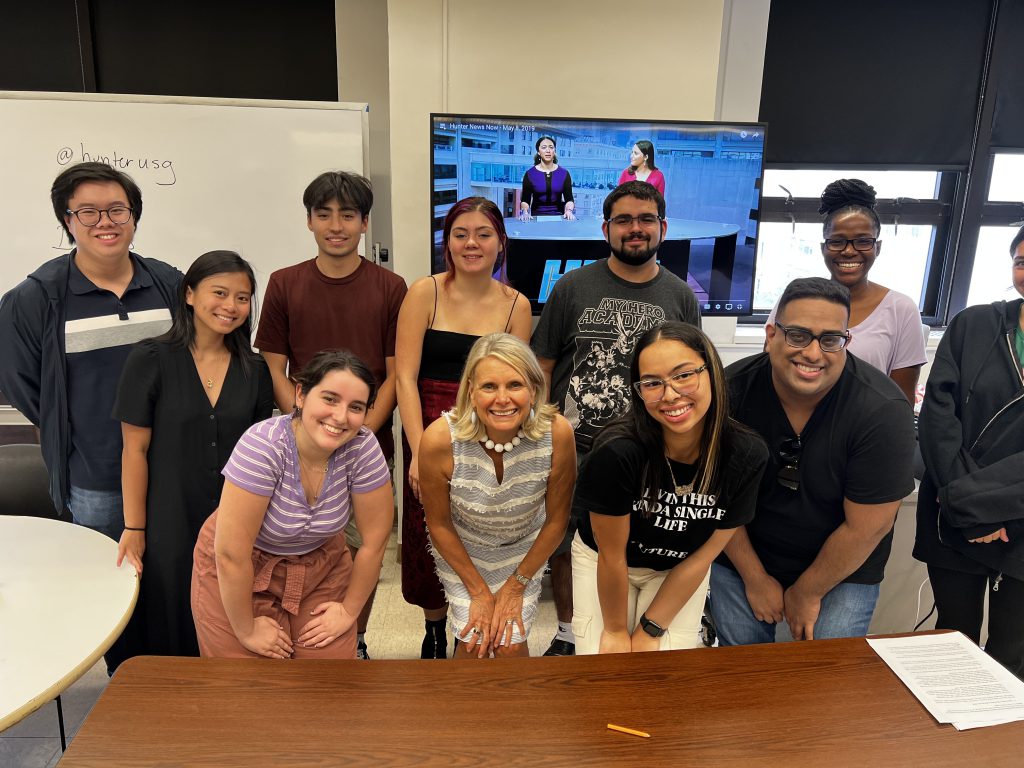 The Journalism Program's Hunter News Now newscast is back in business for the first time in two years, and students are already working on their first of four biweekly shows for the fall. Due to the Covid-19 pandemic, remote learning was not a viable option for this course since students produce and report stories on campus and then anchor the newscast from the fourth floor TV studio.
"I am thrilled that Hunter News Now will be back on the air this semester. We have a great team of student journalists who are ready to cover the stories that really matter to the Hunter community," says Prof. Sissel McCarthy, a Distinguished Lecturer, and director of the Journalism Program.
This course prepares its students for a career in broadcast journalism by having them rotate between taking on the roles of a reporter, anchor, and producer.
"I think this course is a capstone course for a reason and that's because students are equipped with the necessary skills to really work in a professional TV newsroom," says Michael Tamsuriyamit, who is enrolled in the MEDPL 388 course this semester and is pursuing a bachelor's degree in media studies with a concentration in journalism.
In addition, each newscast will be critiqued by a professional TV news journalist and students will receive feedback to improve their portfolio.
"I feel so lucky to be enrolled in this course because it helps build my resume so when people ask about me I can just send them a link to one of the shows at Hunter so that they can see what I am capable of," says Melina Jorge a student who is double majoring in journalism/media studies and studio art.
The Hunter News Now newscast also serves the Hunter community.
"You are reporting on stories that matter to the Hunter College Community and so that means coming into class with story ideas and then executing those story ideas that are assigned to you," says Tamsuriyamit.
This capstone course meets once every week on Wednesdays, and the first newscast will be taped on October 12.