By Laila Gad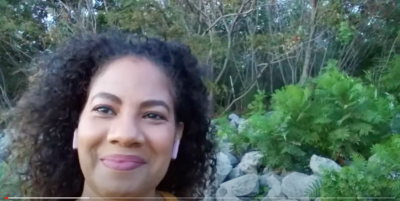 "Milk your time as a student" is the main takeaway Ivette Davila-Richards, a news assignment editor at FOX, wants students to remember from her reporting career. She emphasized the importance of getting involved in journalism associations and applying for fellowships before graduation to a hybrid group of 10 students last month.
During the Zoom talk, Davila-Richards encouraged listeners to cultivate their journalistic curiosity through networking and being on their toes with current events and New York geography. She was once asked to name as many New York bridges and tunnels as she could as part of the interview process for Spectrum News NY1. Her job there was the start of her journalism career, even while she was still a substitute teacher for the Department of Education.
Davila-Richards credits her success to taking on new things and learning when to walk away from something that doesn't fulfill her professional aspirations. After NY1, she did a stint in sales at the History Channel and in tech at a Christian broadcasting station in Brooklyn. The sales job showed her that her heart belonged to journalism.
Davila-Richards urged students to join professional journalism organizations, even ones that aren't part of their personal identities. She serves on the board of the Society of Professional Journalists, played a leadership role with the National Association of Hispanic Journalists and is a member of the Asian American Journalists Association. These groups opened the door for her to participate in fellowships at Poynter Institute and Fuente Latina. She encouraged students to build connections with a wide range of people from fellow journalists to the janitors, security guards, and student aids on campus. "Befriend them. They will be the ones who help you when you need it," she said.
As a woman of color, she has experienced feeling unheard in the newsroom, but she advises students to combat this by challenging the status quo and the slant in coverage. By working her way up at FOX, she is now able to advocate for pieces that tell unheard stories. "Always push boundaries," she said. "The sky is truly the limit."
Students can access the resources shared by Davila-Richards here.