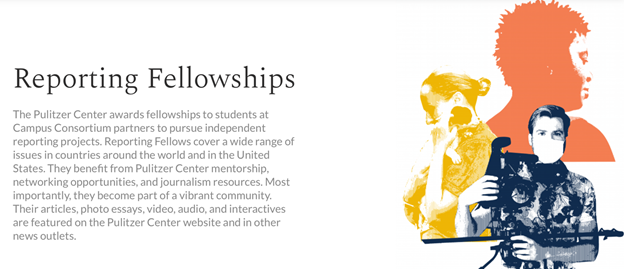 Students interested in reporting on a story overseas can apply for 2022 Pulitzer Student Reporting Fellowship this semester. The $3,000 grant will once again be awarded to a Hunter College student journalist with a story proposal about an overlooked topic of global importance.
The Pulitzer Center supports in-depth, high impact reporting on issues of international significance, but with the pandemic still restricting some travel abroad, it is also making awards for domestic stories.
Last year, senior Kalli Sringas won the 2021 Fellowship to report on an ancient sea grass in Greece that can remove pollutants and chemicals and even some plastics from sea water.
In 2020, the winning proposal came from journalism student Colleen Digney to report on a humanitarian group in Vietnam that is removing landmines left over from the Vietnam War and then reclaiming the land to build schools and libraries.
The Pulitzer Center offers the annual grant through a Campus Consortium that includes Hunter College. The fellowship is designed to encourage students to investigate and illuminate stories that are often overlooked and offers students the opportunity to work with the Pulitzer Center staff and journalists on their project.
In addition, the Center hosts an annual fellows weekend in Washington, D.C. in the fall, where students share their work and meet with professional editors and journalists.
For more information, check out the Pulitzer Center site: https://pulitzercenter.org/grants-fellowships/opportunitiescampus-consortium-members/reporting-fellowships
And don't forget, if you're interested in this opportunity, the deadline to submit your application is Friday, Feb. 25, 2022.  Please contact Journalism Program Director Sissel McCarthy at sissel.mccarthy@hunter.cuny.edu with any questions.