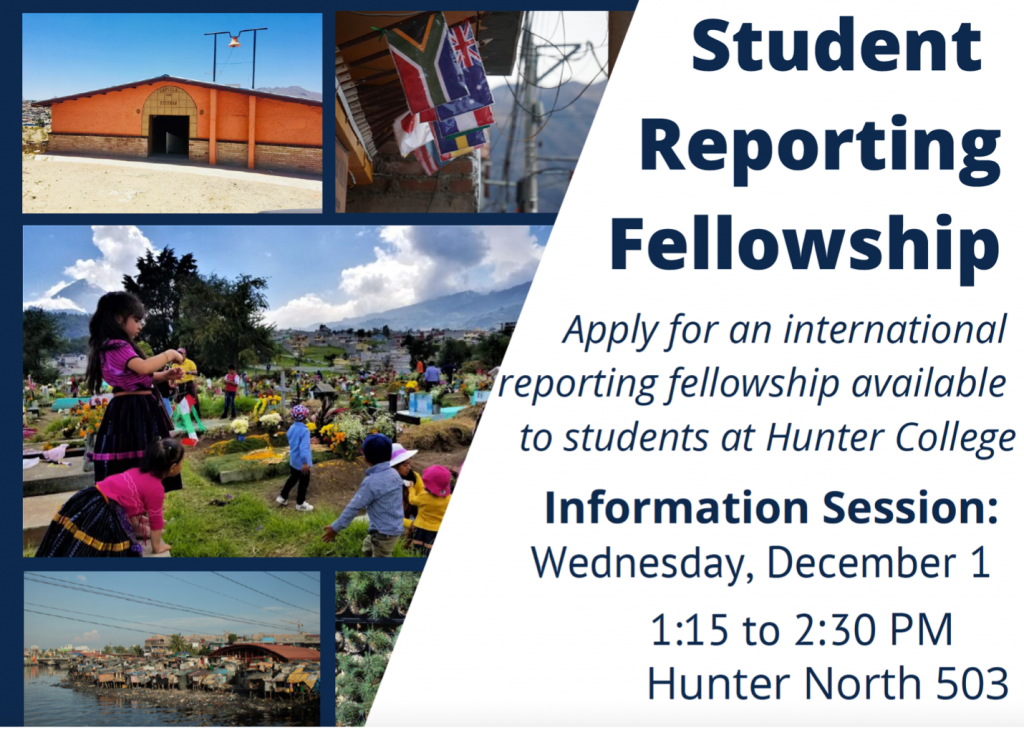 Students interested in reporting on a story overseas can apply for 2022 Pulitzer Student Reporting Fellowship. The $3,000 grant will once again be awarded to one lucky Hunter College student journalist. You can learn more at a Pulitzer Fellowship Information Session on Wednesday, Dec. 1 from 1:15-2:30 p.m. in Hunter North 503.
The Pulitzer Center supports in-depth, high impact reporting on overlooked topics of global importance, but with the pandemic still restricting some travel abroad, it is also making awards for domestic stories.
Last year, senior Kalli Sringas won the 2021 Fellowship to report on an ancient sea grass in Greece that can remove pollutants and chemicals and even some plastics from sea water.
In 2020, the winning proposal came from journalism student Colleen Digney to report on a humanitarian group in Vietnam that is removing landmines left over from the Vietnam War and then reclaiming the land to then build schools and libraries.
In 2019, Hunter journalism student Audrey Henson traveled to Japan to report on dementia treatments. The previous year, Kadia Goba won the grant to report on environmental sustainability issues in Sierra Leone and published her story in Pacific Standard magazine.
And in 2017, journalism student Amy Russo was awarded the fellowship to report on the plight of child refugees arriving in Sweden. Russo's report was published in the prestigious journal Foreign Affairs.
If you're interested in this opportunity, the information session is the best way to learn more and get a jump start on your proposal over the holidays, as the deadline to submit your application is Friday, Feb. 25, 2022.
The Pulitzer Center offers the annual grant through a campus consortium that includes Hunter College. The fellowship is designed to encourage students to investigate and illuminate stories that are often overlooked and offers students the opportunity to work with the Pulitzer Center staff on the project.
In addition, the Center hosts an annual fellows weekend in Washington, D.C., where students share their work with other fellows and meet with professional journalists and editors.
Please contact Journalism Program Director Sissel McCarthy at sissel.mccarthy@hunter.cuny.edu with any questions.