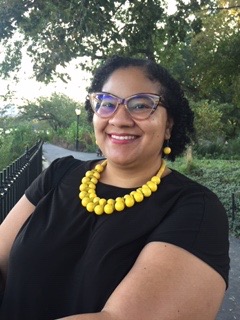 Stephanie Siek is very excited to be teaching the Reporting and Writing 1 course at Hunter College this fall. "I really love working with younger journalists. I find we have a lot we can learn from each other," said Siek.
Siek started her journalism career at The Associated Press in Missouri, then covered community news for The Boston Globe. She left the Globe to accept a Fulbright Young American Journalists Fellowship in Germany, where she researched and wrote about how increasing diversity was causing a shift in German identity. She then spent a year working for Deutsche Welle, a German international broadcaster. After returning to the United States, she covered race, gender, ethnicity and related topics for CNN.com.
But just after Hurricane Sandy, The Associated Press brought Siek back to the Big Apple. There she curated the AP's mobile app and social media accounts, and pioneered social media newsgathering practices during a variety of breaking news such as terrorist attacks, mass shootings, natural disasters, and protests. In 2015, she was selected for an International Women's Media Foundation grant and spent two weeks getting hostile environment training in Uganda and reporting on post-genocide society in Rwanda.
Siek then spent some time as a social media strategy editor at the New York Times before becoming a multiplatform editor for MSNBC. After many years curating the news, she decided to get back to the content creation side this spring as a freelance writer and editor. She's enjoying the opportunity to explore new forms of writing and her passions.
Siek lives in Brooklyn with a shy but regal former street cat, Eartha Katt. In her free time, she loves hiking, travel, volunteering at a local community garden, and searching for her favorite international foods on the streets of New York.