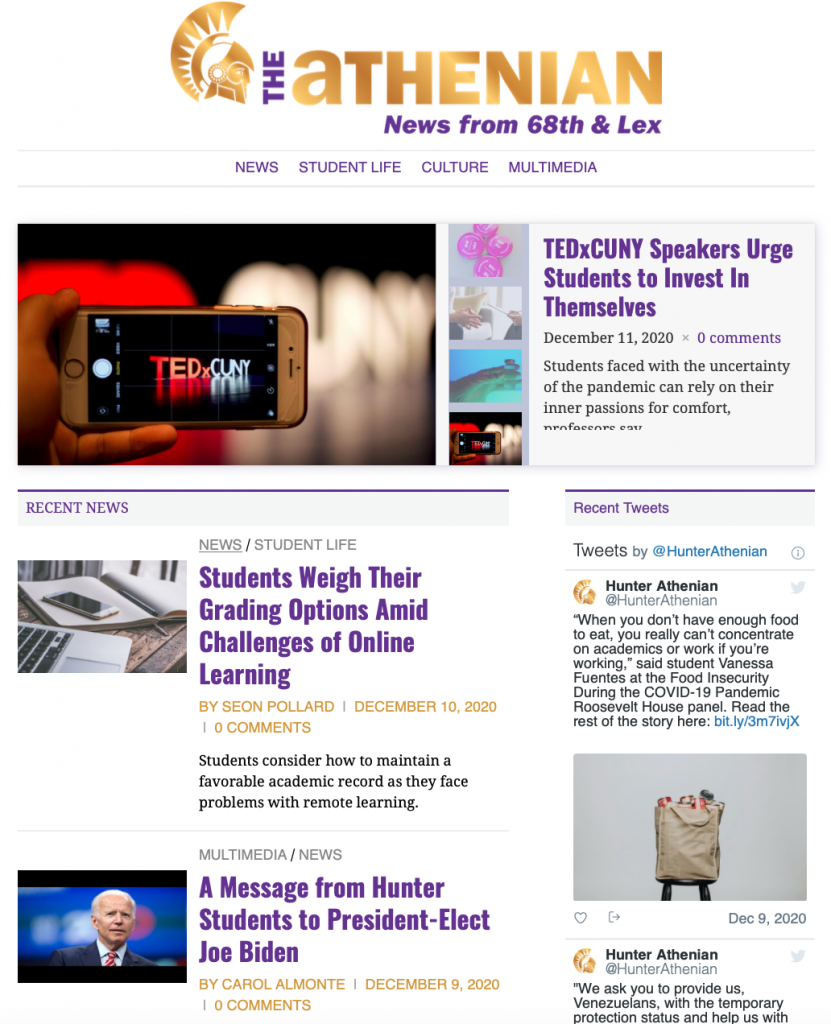 From focusing on the student government's call for pronouns on rosters to messages for President-Elect Biden, last semester's Neighborhood News (MEDPL377) students didn't shy away from hot topics. The class published 34 articles about the Hunter community in The Athenian during the semester.
This workshop-based production-style course builds students' skill set to prepare them for internships with professional news organizations. After learning about an opportunity to attend an Online News Association conference for free as a student from the class Slack channel, Rich Mendez met a MSNBC recruiter at a meet and greet and landed an paid spring internship with the news network.
The course prepared Mendez for the interview process through the line-by-line editing feedback provided by Prof. Katina Paron and its several "writing under deadline" exercises. By focusing on audience-first stories that report the news in a concise and relevant manner, Prof. Paron said she hopes to build students' portfolio of published stories (or clips, in journalism parlance) and make them more attractive to paid-internship recruiters.
Neighborhood News' guest speakers address issues that matter to students most. Both Adrienne Shih, audience engagement editor at the LA Times, and Hanaa' Tameez, staff writer for Nieman Labs, shared their experiences with getting internships and dealing with being the only person of color in the newsroom.
Tameez said the key is approaching networking not as a stepping stone to find your next job, but to use it as a way of finding friends and building a support system. She said, you want to meet people you can relate to and learn from.
The other piece of advice from Tameez, a CUNY Newmark Graduate School of Journalism graduate: Be Googleable. Your future employer should be able to see your online presence on at least one platform. This includes Linkedin, Substack or a web portfolio, as well as social media.