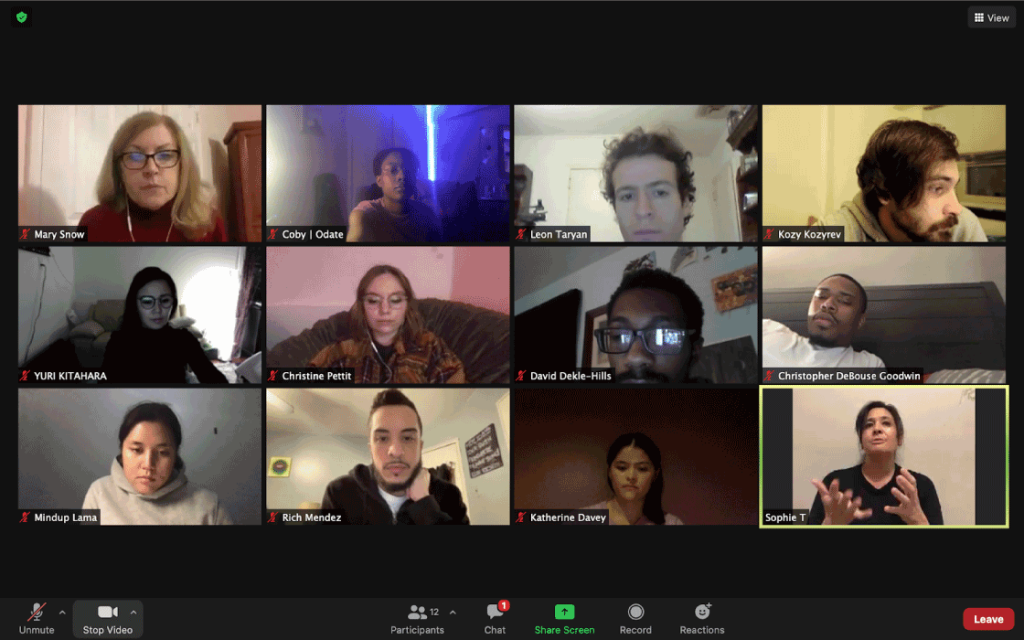 When journalists go into the field to cover a story in New York City for NY1 News, they are expected to report, write, shoot and edit their own stories, NY1 News Senior Manager of Newsgathering Shannon Troetel told students in the MEDPL 283 News Video Reporting class. While the station has long required reporters to be self-contained and work on their own,Troetel says it's become the industry standard and now, there are times when reporters rely only on their phones to cover stories. "The technology really has allowed us to become more nimble, especially in breaking stories," added Troetel. As an example, she cited the station's continuous live coverage on Nov. 14 when the 2020 presidential race was called for Joe Biden and spontaneous crowds gathered around the city. Troetel recalled "how quickly we were able to mobilize probably half a dozen different live teams."
Covering New York City at NY1 News also means journalists need to be able to pitch their own stories. It requires getting to know communities and covering stories and issues that might get overlooked by others. She stressed "there's something to be said about local news where stories can come from lots of different places and can literally come from a viewer calling."
Troetel was asked about the 2018 exclusive at NY1 News when its journalists covered the grassroots campaign of a then unknown candidate named Alexandria Ocasio-Cortez. The station's cameras captured the moment when Ocasio-Cortez learned she pulled off a stunning political upset and was elected to Congress to represent New York's District 14.
"Every station, every network, you know, other countries were calling us for that video, " she recalled. "I feel lucky to work at a place that is invested in local urban journalism."
Troetel said getting a foot in the door at NY1 News doesn't hinge on having a journalism degree. However, she said that having relevant experience such as internships or working at the school newspaper help. Knowing about the city also plays a factor. "You should know some of the history and the geography and who the major players are," she added.
Her advice to journalism students? "Think about what kind of journalism you want to pursue, what medium whether it's print, television, digital or radio. I always tell people, just think about what you like, what you watch, think about what you read and where you could see yourself."