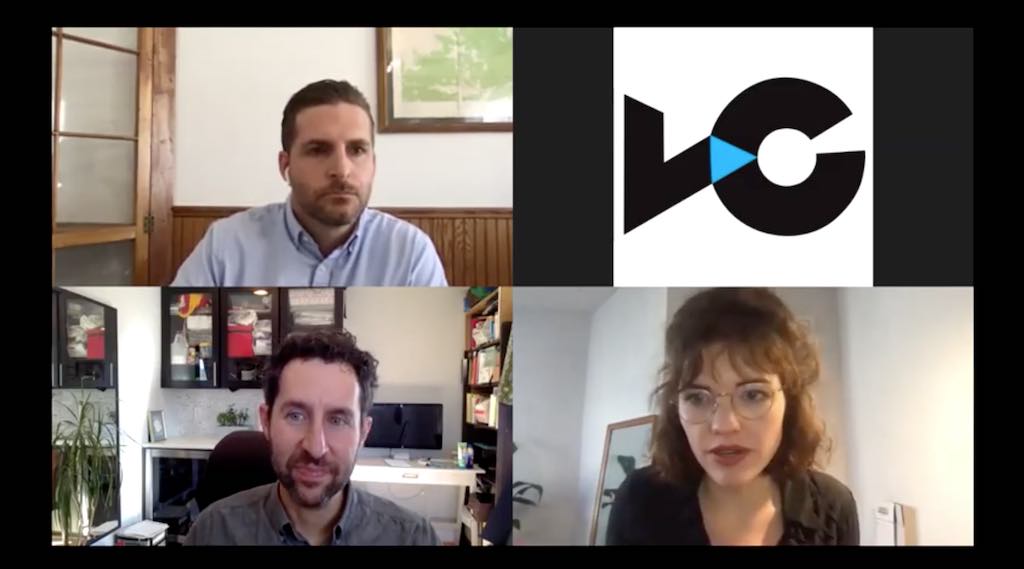 With face-to-face reporting still unsafe during the COVID-19 outbreak, remote video interviewing has become a "key tool in our arsenal," counseled journalist Eli Kintisch during an April 6 Zoom training webinar.
Kintisch, a youth media producer with PBS NewsHour's Student Reporting Labs, which sponsored the session, explained that even during a pandemic, excellent interviews can come from the safety of your own home without the need for expensive equipment.
Webinar panelists Jennie Butler of mobile news publisher NowThis News and Andrew James Benson from New York-based production company Inquire Films, agreed with Kintisch and offered tips, techniques and tools for recording remote interviews during the hour-long session.
Butler suggested that reporters enlist interviewees' help in setting up the best video possible.
Butler suggested, for instance, that reporters start by setting expectations during a pre-interview, not just preparing your interviewee on how long the call might take and topics of conversation, but also to enlist their help in setting up the best video possible.
She also said to consider having your subject record the interview on their own iPhone. "Embrace the hand-held camera," especially if you have them in their element, Butler added. Even if the shot is shaky, it will allow the viewer to feel the emotion behind the screen.
She cited examples from the series Through Our Eyes, which offered a glimpse of life in Puerto Rico post-Hurricane Maria, or the humanitarian crisis in Venezuela in 2017.
Tips and tools for top interviews
Among the other tips from Butler and Benson:
Conduct the video interview in a professional location (i.e., not the interviewee's bedroom).
Be sure their background is interesting in order to provide depth of field, but not be overly distracting. Extra points if it relates back to them in some way, like a library backdrop for an interview with a historian.
Be sure the subject is well lit and facing towards a window or lamp so their face is not in shadow.
Be sure to turn off your own Wifi and all notifications.
Encourage the subject to use earphones such as AirPods and, if possible, a wireless mic like a Rode smartLav, for quality sound.
Always ask the subject to record their audio on their iPhone as well, for better quality audio and to have a backup, in case something goes wrong with your recording.
Good options for screen recording include Skype, FaceTime, Zoom or Open Broadcaster Software (free and allows you to record without a watermark).
For audio, Benson uses an audio software called Loopback that records to Quicktime.
Improving interview quality
For better quality remote video, Benson suggested you have the interviewee record their interview on their own phone, even while you interview them via their laptop (see the graphic).
For the set up, have them place their laptop at a 90 degree angle and one or two feet away, sufficiently elevated so their camera phone can be propped up at eye level (horizontally, with the back toward them, for a landscape shot out of the phone's higher quality main camera) (see remote interview setup graphic below).
Now that you're all set up and your subject feels comfortable, do a test run, he suggested.
Always check back on audio input on your recording device, Benson added, and double check that there is room on your hard drive (as well as having the subject make sure they have at least 3 gigabytes of storage on their phones as well), otherwise the footage will not have space to save.
More tips from Benson:
Have the subject press record and start the interview for about 3 seconds, to check audio and video.
Make sure that they are looking at the camera on their iPhone instead of directly at the interviewer on the video chat.
Don't worry if the headroom on the video chat looks different than the frame of the actual shot from the phone. This will happen when your laptop is positioned to 90 degrees.
In the end, it doesn't hurt to check the video on the phone to make sure the shot is how you want it to be.
For more techniques, watch the full webinar, view the slides or download a one-page description of how to prep the subject for a remote interview through PBS NewsHour Student Reporting Labs.