By Gabriella Vetrano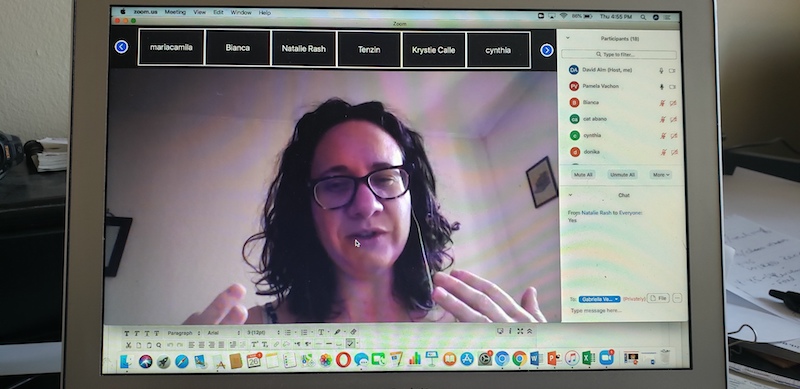 Seventeen faces, all in Zoom boxes, waited for our guest to arrive. Behind each of us were our rooms, windows into our respective lives in isolation during COVID-19.
Some of us had our cameras on, our pencils poised to jot down notes while others elected to keep their screens blank, faceless avatars staring out at the rest of Professor David Alm's Magazine Writing class.
An 18th box appeared on our screens, and in it was a smiling Pamela Vachon, freelance writer and food blogger.
Vachon had been planning on visiting our class in person but the pandemic shut down Hunter College and effectively disrupted our plans. Luckily, she was able to join us during our online session instead.
We watched from our own private alcoves as she told us about her beginnings as a freelancer, her writing process and the importance of pitching yourself.
Driven by long interest in food
With a background in English and culinary arts, Vachon always had an interest in food.
After studying music and English as an undergrad at the University of Michigan, she spent five years working on its Ann Arbor campus while simultaneously serving on the board of a local theater.
Her love of the arts led her to Columbia University, where she earned a master's in arts administration and found a job working with a New York-based dance company.
Seven years later the antsy feeling returned and she went to culinary school. Immersed in the New York City restaurant scene, she made connections that helped her enter the world of food writing.
At the encouragement of a friend and fellow blogger, three years ago she pitched her first story to Chowhound, a lifestyle blog run by CBS. Since then she's written for multiple other publications and currently has four pieces set to be published within the next month.
Importance of first impressions
When asked about how she found her place with Chowhound, she emphasized the importance of first impressions.
"Your first introduction to an editor is through a pitch."
"Your first introduction to an editor is through a pitch," Vachon advised. "In that pitch you're trying to establish the kind of tone you want to maintain with a site like that."
She said it was her sass that caught the Chowhound editor's eye and she has since written numerous articles for the publication. By establishing her voice in the pitch, she said, she gave the editor a sense of her style, and that's what sold him on her.
"If you're going to pitch to any publication at all, getting a good sense of the content they produce is really important," she said, adding that if your piece isn't a good fit, then pitch to other places. She recommended pitching your stories to publications with a history of publishing content like what you'd produce.
Write what you're passionate about
One of the biggest pieces of advice she imparted was to write about something you're actually interested in.
"Inauthenticity in your writing voice is very easy to see through if you're writing about something you don't really care about," she said.
She reflected on an article she agreed to write about an Instant Pot when in reality she didn't and had never owned an Instant Pot. While still a well-written and -researched piece, it wasn't as well-developed as the work she was truly passionate about, she told us.
"The bread and butter of what you should be writing is about stuff that actually interests you."
"Be flexible and be able to stretch your writing muscle," she advised, "but the bread and butter of what you should be writing is about stuff that actually interests you."
Above all else, Vachon says to advocate for yourself. She emphasized that it is up to you to sell yourself to a publication.
"The cover letter is always important in business," she said, "but it is especially important in writing – because that is the business you are offering." 
Gabriella Vetrano is a junior in Macaulay Honors at Hunter College. She is a Media Studies major with a concentration in journalism and a minor in psychology.