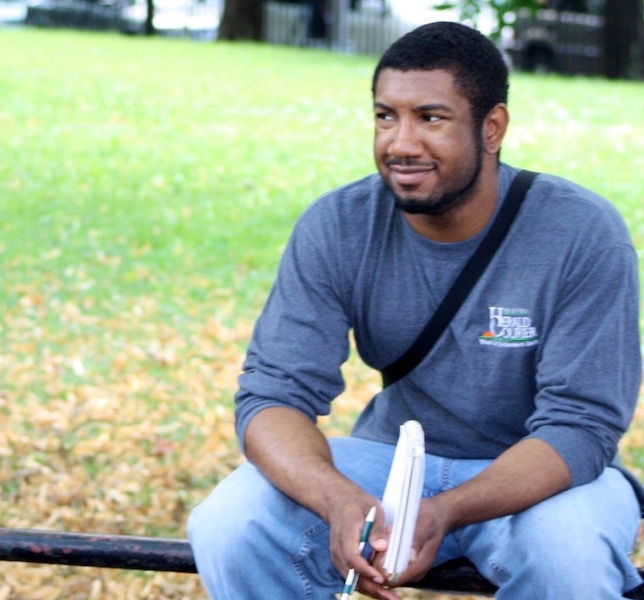 Khristopher Brooks' morning starts at 5 a.m. with coffee, cereal and a frantic consumption of news. 
"In the morning it's hectic. Listening to NPR like, 'What else, what else, what else,'" said Brooks, Hunter College's new Reporting and Writing 1 professor, describing his prep work for a day at CBS Moneywatch.
Brooks explained that in order to be up to speed on the news, his mornings are spent "frantically" researching articles while getting dressed and eating breakfast.
"From like 5 to 8:30 in the morning, I'm looking at the [New York] Times headlines, I'm looking at USA Today, I'm looking at the Wall Street Journal, I'm looking at Bloomberg, Reuters, CNN Money, CNET, CNBC. … I'm looking at everybody," he said.
Brooks added: "It's insane, but it's quick. It's a brain download of everything."
"Back when I first started, the editors were really adamant about — especially young journalists — religiously reading the paper every day,"

— Khristopher Brooks
This "brain download" happens quickly in part because Brooks has been reporting for over 14 years, and stays true to the mantra he learned fresh out of journalism school: "Read the news".
He continues to carry this advice to his students today at Hunter. "Back when I first started, the editors were really adamant about — especially young journalists — religiously reading the paper every day," he said, tapping the table to punctuate his words.
From news to narrative
After graduating with a double major in journalism and political science from Central Michigan University in 2006, Brooks immediately got an internship with The Associated Press.
Working with the AP launched him into writing and reporting on higher education, for publications in Kentucky, Virginia and, finally, Nebraska. But it was when he started as a reporter at the Omaha World-Herald that he reached a key crossroads.
He started reading court stories from a fellow reporter that were written in a narrative style, something he hadn't encountered before. "Nothing splashy on the front page at all," he recalled, "but the way he told those stories made me realize that that's how I want to write."
Brooks then left Omaha with the "sole mission" of finding a graduate school that would teach him how to write narratively. He was quickly accepted into New York University and left for New York in 2010 for a master's degree in literary reportage.
It was there where he learned how to use journalism as a means for storytelling, creating characters from his sources and their quotes as conversation. While in school, he flexed his narrative muscles by writing a series of highly detailed stories on hair salons in Bed-Stuy as he freelanced for Politico New York.
Brooks used his advanced writing skills to cover higher education once again, working outside of the city for publications like the Florida Times-Union and Ledger Media Group. He eventually returned to New York and in 2017 began reporting at Newsday, then moved to CBS News in 2019.
Helping readers understand
His current position at MoneyWatch, the financial newsdesk at CBS, has Brooks finding a monetary angle on the daily news: "We at CBS — and a lot of journalists — really have two charges: We break the news. And if we can't break the news, we break down the news."
For example, when basketball superstar Kobe Bryant died, Brooks wrote a piece about the process of buying his jersey, taking his death as breaking news, and breaking down the process by reporting on how much a Bryant jersey could cost consumers.
In the end, the goal of MoneyWatch is to make readers more aware of the economy and how it could affect them. Its team of reporters is working to answer whether or not an event is "taking more money out of your pocket or putting more in," he said. The final question being: "Is this helping you understand how money works better."
Advice for young reporters
At MoneyWatch, the day begins with a fast, 15-minute pitch session, where reporters decide what they'll work on for the day. To a new reporter, pitching may seem intimidating, but Brooks suggests young journalists continue to be well-read and persistent.
"It's always going to work out in your favor if you keep pitching," he said. "I'm telling you, whether you get a 'yes' or a 'no,' it's always going to work out for you."
"That's still the best way to learn how to write, is to read."

— Khristopher Brooks
Being up to date on the news is also good housekeeping for a journalist. And for Brooks, the most accessible way to learn is by reading other journalists' writing. "That's still the best way to learn how to write, is to read," he said.
"If you just read the Times, every day for one year straight, you could be a great writer. Just read their stuff, " Brooks said.
Setting boundaries
After a full day of researching and reporting, Brooks is ready to leave his Midtown office around 6 p.m. As soon as he steps out the door at CBS headquarters onto 57th street, he sets up a media boundary.
"I cut everything off," said Brooks."I stop doing everything news related. I stop answering emails. I start paying more attention to my family or watch tv shows that I missed out on. Spend time with my cats."
It's an approach perhaps rare among journalists, creating a distance between reporting and the real world. … At least until 5 a.m. the next morning.