Latest update
March 9, 2020 — The Hechinger Report is looking for a paid education reporting intern, based in Washington, D.C., for summer 2020.
Company Description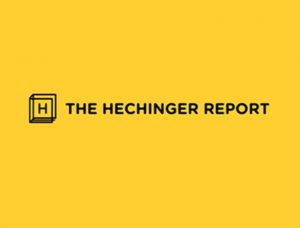 The Hechinger Report is a nonprofit news outlet that covers education across the United States. It's a small newsroom with big ambitions to cover the most pressing issues facing classrooms and campuses. Its journalists travel across the country and the world asking tough questions, seeking out promising solutions and listening to the voices of educators, families and kids. Here are the opportunities to join us in its mission.
Job Description
Education Reporting Intern — Summer 2020
The Hechinger Report is looking for a reporting intern. The intern will research, conduct interviews and write about national higher education issues for its site. Their work may also be published by one of its media partners. Over the 12-week internship, the intern will produce at least one in-depth story with the support of its experienced editors and reporters. Hechinger Report' coverage is known for its focus on how education policy affects students and educators in classrooms and on campuses, and the internship usually requires travel.
Intern will also be expected to contribute shorter news items, newsletters and other reporting tasks on a range of education issues.
This internship will be based in Washington, D.C. Pay is $650/week and a membership to the National Press Club will be provided.
Qualifications
Minimum Qualifications:
Bachelor's degree in journalism or related field
Skilled at writing for both print and online audiences
Experience doing research, conducting interviews and producing on-the-ground reporting
Comfortable writing analysis pieces based on original reporting
Able to understand and explain data to a general audience
Basic knowledge of national education issues
Photography/ multimedia experience
Prior internship at a news outlet
How to Apply
To apply, send resume, cover letter and two published clips to bruderle@hechingerreport.org. Learn more here.
Deadlines
March 29, 2020.