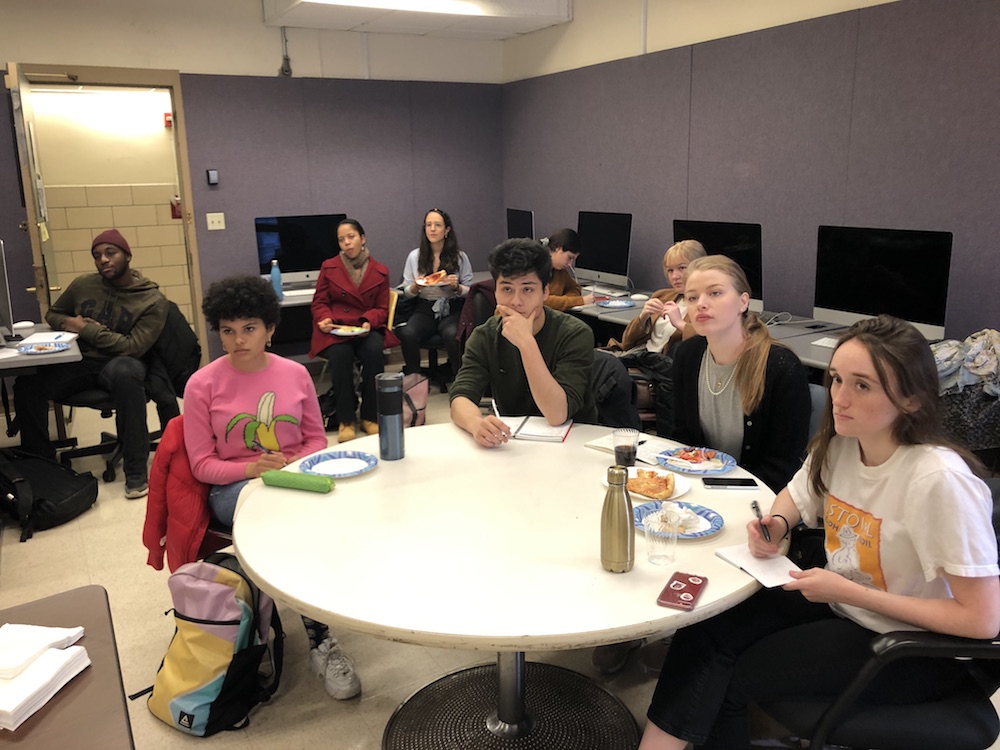 A dozen Hunter College students gathered Feb. 6 for a pizza and information session on the Pulitzer Center 2020 fellowship, complete with previous winners, Pulitzer staff and Hunter journalism faculty.
For the fourth year running, the Pulitzer Center will award one Hunter student a $3,000 grant to travel anywhere in the world to report on an underreported story of global importance.
Kem Sawyer, director of Pulitzer's Campus Consortium reporting fellowship program, spoke at the event with students via Skype about the opportunity. She highlighted topics in demand, such as stories about migrants, women's issues and gender roles. The judges look for "solution-based" reporting, which can include stories about the environment and climate change.
Sawyer added that recently the fellowship has also accepted proposals for stories about incarceration and gun violence in the United States. Topics that students want to avoid, she noted, include stories about celebrities, sporting events and stories in areas that are dangerous for journalists.
While she encouraged students to choose a story that they are passionate about, she reminded them that safety is the top priority.
"One thing all good journalists are, is flexible."

— Kem Sawyer, Pulitzer Center
Sawyer also reminded students that sometimes stories change on the ground, so while they should have an angle in mind for their story, they should remember that it will also be molded by their experiences on the ground. "One thing all good journalists are," she said, "is flexible."
Sawyer suggested that students who are struggling to narrow down their ideas, can view other students' work to see where previous winners took their stories.
She added that the program will assign the winner with an advisor who has traveled and reported in the country of interest. And Pulitzer Center staff also help students after their return from abroad to pitch their stories to various media outlets.
Previous student winners offer advice
Two Hunter College students, former fellowship winners Kadia Goba and Audrey Henson, joined the conversation to offer their own advice for students.
Goba, who in 2018 reported for her fellowship from Sierra Leone on women rebuilding their communities after devastating losses in landslides, Skyped in from Washington D.C., where she has been reporting on the Trump impeachment proceeding for Buzzfeed.
Goba recommended students seek advice from New York residents from the country they'll report of in — "They will help connect you overseas." She also advised students to identify outlets that might be interested in their story, to have an idea of where to begin pitching it after the fellowship.
Henson, who in 2019 went to Japan with her grant to report on holistic dementia treatments for the country's elderly, advised students to start with lots of ideas, and narrow it down to a country. "I looked through news in Japan and saw that dementia was an issue." Having a family member that suffers from dementia also helped fuel her interest in the subject.
Henson also spoke about her visit to Washington Weekend, an annual weekend-long event where fellowship winners present their work and network with one another, as well as with journalists who work for prominent outlets from around the country.
"It's a great community to be a part of," Henson added.
---
Deadline to apply for the fellowship is Feb. 28. Feel free to contact Journalism Program Director Sissel McCarthy at sissel.mccarthy@hunter.cuny.edu or Journalism Internship Coordinator Adam Glenn at huntercollegejournalism@gmail.com to discuss your proposals.
Read more here, plus learn about the fellowship and how to apply, and explore reporting by other student fellows. You can download the application directly from the Pulitzer Center Campus Consortium website.