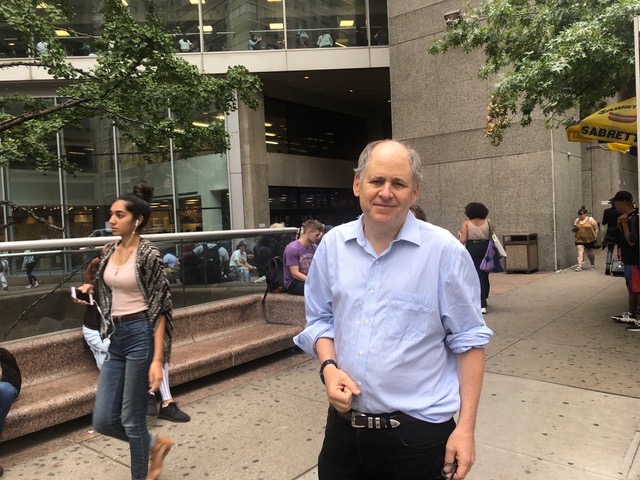 This semester's longform Feature Writing class features weekly visits from journalists (both print and television), bestselling authors, and award-winning filmmakers and photographers. This past week's guest was journalist, filmmaker and bestselling author Jonathan Alter.

Now a contributing correspondent and political analyst for NBC and MSNBC, after being a featured columnist and editor at Newsweek for almost 30 years, Alter has long been considered one of the leading political observers and commentators.

Currently working on a biography of former President Jimmy Carter, Alter has written bestselling bios on Presidents Franklin Delano Roosevelt and Barack Obama. His most recent project is the highly acclaimed HBO documentary, "Breslin and Hamill: Deadline Artists," about the two legendary New York columnists, Jimmy Breslin and Pete Hamill.

(A screening copy of Alter's documentary is available to Hunter journalism and IMA/MFA students; please send your requests to the Feature Writing class instructor, Douglas Alden, at douglas.alden@hunter.cuny.edu.)

Alter also has a weekly show on SiriusXM called, "Alter Family Politics" that features his wife Emily — a former co-executive producer on "Late Night with Stephen Colbert," and now a special project producer on CBS "Sunday Morning" — and their children, who have gone on to become journalists, novelists and screenwriters.

Resilience and toughness required

Alter spoke at length about his children's careers, talking about what he believes it takes for young people to succeed in the journalism, publishing and film production worlds.

"It's about hard work. Realizing that every job is about learning. And it's about being resilient. I don't know one person in the media business who hasn't been fired, at least once." (At this point in the class, Professor Alden raised his hand and called out, "2005 for me!")

"You've just got to be tough and resilient. You're looking for opportunities that will lead to other opportunities, but most of all opportunities where you can learn," Alter added.

During his 90-minutes with the class, Alter talked about his early jobs, and about learning from some tough, demanding bosses. "Early on I worked for someone who would look at my stuff and tell me — with a lot of curse words — if he thought something I wrote was terrible. I had to be tough. And he understood how to make me a better writer and a better journalist."
Advice on getting 'the real story'

One of the key themes of the "Breslin and Hamill: Deadline Artists" documentary is one of the main lessons for this year's feature writing class:

"It's like Jimmy Breslin says: You've got to do the reporting. You've got to get up from your desk and do the reporting," Alter said. "Too many young people think they can report sitting at their desk emailing and texting. No. Real reporting is about going up and out to talk to people. Not texting or emailing them. Getting them on the phone, in order to get them to meet with you, and talk to you — in person. Too many young journalists don't do that. But you need to get up and get out, in order to get a real story."

Among the future guests for this semester's Feature Writing class are the New York Times columnist Ginia Bellafante, New York Times feature writer and critic at large, Amanda Hess and legendary photographer Neil Leifer.