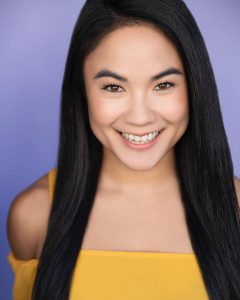 A pioneering young interactive storyteller joined students in Professor Adam Glenn's Mobile Journalism MEDPL 387 course in mid-April to talk about her award-winning work and the possibilities for cutting-edge immersive media technologies.

Michaela Holland, whose 360 video work has already yielded her an Emmy despite still being in her early 20s, shared the behind-the-scenes of several projects.

Among the projects she screened was work she had produced during a stint as video producer at Time-Life publications, where her work appeared on outlets such as TIME magazine, Sports Illustrated and People magazine.

One project she shared was a 360 video report on the 2017 solar eclipse, which got 5 million views on Facebook and Youtube. Another contained the first immersive 360 video of an excursion up Mount Everest.
Holland also discussed in depth a passion project she created with an immersive report of a woman who used facial prosthetic.
Journalism students, who said they were inspired by Holland's work and presentation, this spring have their first opportunity to work directly with 360 video cameras and related gear, newly purchased by the department this spring as part of a revamped mobile journalism class.