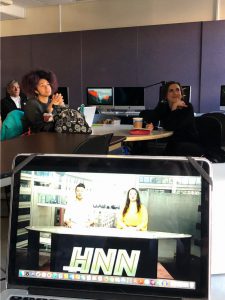 Jumping from the nation's 183rd television news market to the No. 1 market in just one year is pretty much unheard of.

But it's not impossible if you're Jessica Cunnington, now a News 12 anchor and reporter.

Cunnington talked about that meteoric rise from her entry-level reporting job in Charlottesville, Va., to New York's News 12 with Prof. Sissel McCarthy's "Hunter News Now" students on March 27.

After Cunnington graduated from the S.I. Newhouse School at Syracuse University in 2012, her goal was to be working as a reporter within six months somewhere on the East Coast.

It didn't take long. By August of that year, she landed a job as a what's known as an MMJ (multimedia journalist) for CBS19 in Charlottesville.
There, she learned to report, write, shoot and edit all her own stories and within a year, she had the experience and show reel to make a big jump back to her hometown market, New York City.

Cunnington shared her reporting and anchoring expertise while watching the second "Hunter News Now" show of the semester and praised students for their storytelling.

"The techniques you're learning here will really help you when you get your first job," Cunnington said. "My approach is to let the people you interview do the talking. Reporters don't need to talk as much as you think."

Some of her more practical tips include:
think about adding nat sound at the beginning and throughout your story
always use a tripod
shoot your interviewees on the tight side, usually from the collarbone and up unless you need to show something else in the shot
avoid too much head room
use dissolves to smooth out the audio, and
smile when you're anchoring.
She also said everyone gets better with practice and that's why that first job in a triple-digit small news market is invaluable.