by Jon Friedman
Briana Panetta, an intern at Fox 5 here in New York City, visited my News Literacy class in mid-November and told Hunter College students about the behind-the-scenes life at a major local television news channel.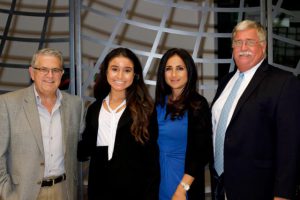 Panetta, who graduated last May from the Stony Brook University School of Journalism, has grown up fast, two months into her internship.
She told the students how important it is to be flexible and prepared for anything. Recently, the news director assigned her to take a cameraman to the Bronx, where she was supposed to ask residents questions for a story to air that evening.
Then, while she was in the car, the news director told her to forget about going off to the Bronx and head, instead, in the opposite direction to do reporting on a clothing drive at the home of the New York Mets, Citi Field, in Queens.
Panetta stressed to the class how important it is to stay well informed and read newspapers and watch news programs every day (an endorsement for our weekly news quiz!) because you never know when you'll need to talk to a colleague — or on the air — about a story in another state or country.
Panetta, a former student of mine at Stony Brook, spoke to students about how to get a good internship and survive in the jungle of the fast-moving TV news world. She said she felt she'd already made her mark by always smiling, happily accepting criticism from her bosses and getting satisfaction from learning something new every day.
Panetta wants to be on an-air news reporter, so makes a point frequently of asking the network's star reporters questions about how they do their jobs, in the hope of following in their lead and fulfilling her goals.
One of the keys to her doing well so early in her career is her willingness to start at the bottom and accept any assignment — always with a can-do smile on her face. She knows she has to pay her dues.
Panetta encouraged Hunter students to strive to get actual media experience — at any level —and do whatever it takes. There is no substitute for doing the work, making mistakes and learning from them.