Journalism student Maryelin Ramos reported for the just-launched news outlet Hunter Athenian about a talk by veteran journalist Danny Gold at CUNY's Guttman College about his investigation of gangs in El Salvador.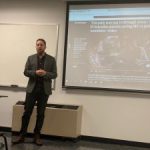 Gold is a founding correspondent and producer at Vice News and is conducting the work as a 2018 Pulitzer Center grantee.
Ramos reported that Gold earned a master's degree with a focus on international reporting from the CUNY Graduate School of Journalism in 2010, something that allowed students to connect with him even more.
"It's an honor him coming to speak to students, and I appreciate it and respect it," she quoted fellow student Cait Munson as saying. "It shows that no matter how big you get, you know where you come from."