By Prof. Jon Friedman
Erica Futterman, the Newsroom Strategy Editor of The New York Times, visited my news literacy class on Nov. 6 and spoke with students for more than an hour about how she got so far so fast in her career — and how they might follow in her path.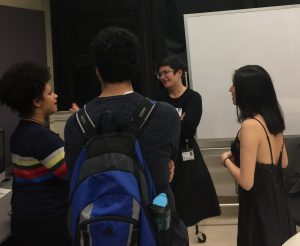 Futterman, who is in her thirties, had previously held editorial positions at such well known outlets as BuzzFeed, MTV News, Rolling Stone and Refinery 29. Her perspective on getting and keeping a job today in the media community was particularly valuable because she is so well versed in the ways of youth-oriented operations.
Friendly and supportive, Futterman was a terrific ambassador from the media industry to a classroom. She has spent the early part of her career on focusing on helping organizations reach young media consumers. She is a native of Queens, New York, and has a master's degree from Northwestern University's Medill School of Journalism.
She encouraged students to think big when they approach their job searches — and follow their dreams. She stressed that it is essential to get "clips" — samples of their work, whether in print, radio, Internet, podcasts or television — that they can send confidently to editors and human resource departments.
Futterman also pointed out that the students shouldn't feel intimidated by the reputations of their prospective employers. She told the story of her ascent in the media ecosystem and made it clear that she was never a lock to get these positions. But if she hadn't tried, she said, she never would have accomplished her goals.
As students and professors know, all too often college students may feel psyched out during their job searches because they fret that they aren't "good enough." Futterman said that the companies she worked for welcomed applications from young people — for good reason. These entities want very much to woo members of, ahem, "Gen Z." And what better way to do this than to hire the same sorts of people who speak the audience's language and know what it wants to accomplish in life?
Of note, Futterman also gave the class an insider's account to what it was like to work in the newsroom of the most famous newspaper in the world during the hubbub of Election Day.
Futterman's visit to the classroom was such a success that many students kept her after class to ask her about the fine points of applying to The Times.