By Sudeepa Singh, Hunter College
Onstage and under the warm light of Hunter's Lang Recital Hall, producer Jenny Carchman and New York Times media correspondent Michael Grynbaum joined more than 70 Hunter students, faculty and administrators in a Sept. 26 screening and panel discussion around "The Fourth Estate" — an Emmy-nominated Showtime series documenting the inner workings of the Times during the Trump era.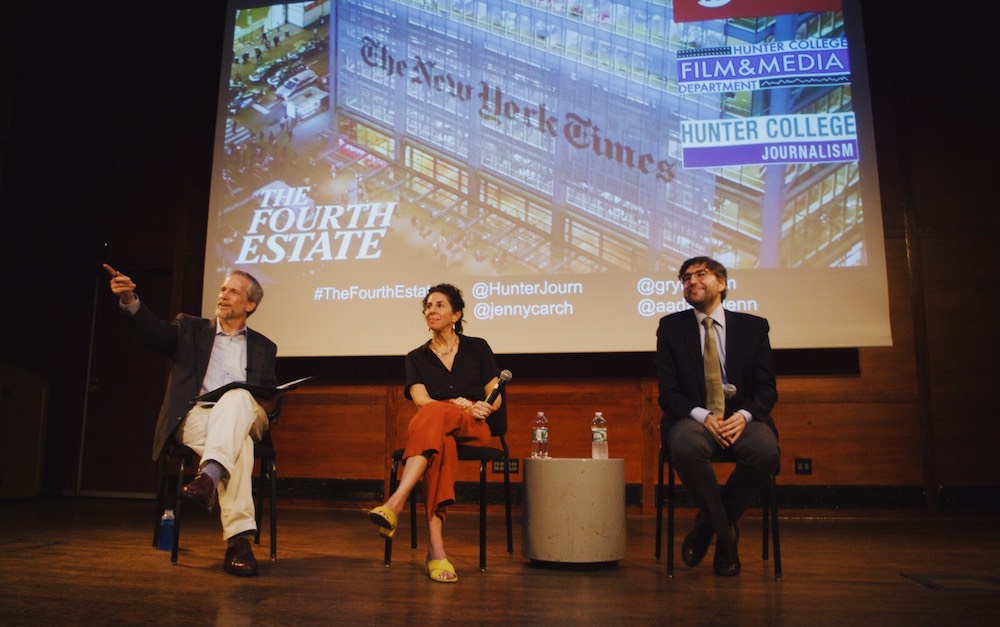 "The Trump Bump," the hour-long segment from the series that opened the Hunter event, tracks the machinations of the newspaper's Trump-based coverage within a rapidly changing media landscape.
Tense and fast-paced, it moved from the firing of former FBI Director James Comey to the secret meeting between members of the Trump campaign and a Russian lawyer linked to the Kremlin, weaving in fly-on-the-wall footage from the Times' newsroom and the personal experiences of the reporters on each story.
In a discussion following the screening and moderated by Hunter Journalism Prof. Adam Glenn, Carchman detailed how she and the documentary's other makers negotiated surprisingly intimate access to the paper, especially its hyperkinetic Washington, D.C., bureau, and made stylistic choices that brought to life the process of reporting in a digitally driven newsroom.
Carchman likened the highly competitive atmosphere at the Times to that of a sports arena, while acknowledging the rigor and diligence shown by journalists in their reporting. Reflecting on the political circumstances under which the series was produced, she mused that, "What's bad for the country is good for documentary film."
For his part, Grynbaum confirmed the documentary's depiction of the Times newsroom as largely realistic and lauded its effort to reinforce a new era of journalistic transparency, a strategy that the news organization itself has been fostering in an effort to win new audiences. He added, of the paper's growing emphasis on investigative journalism as balanced against the myriad other skills news staff must have: "Being able to report out news that surprises people is still the coin of the realm."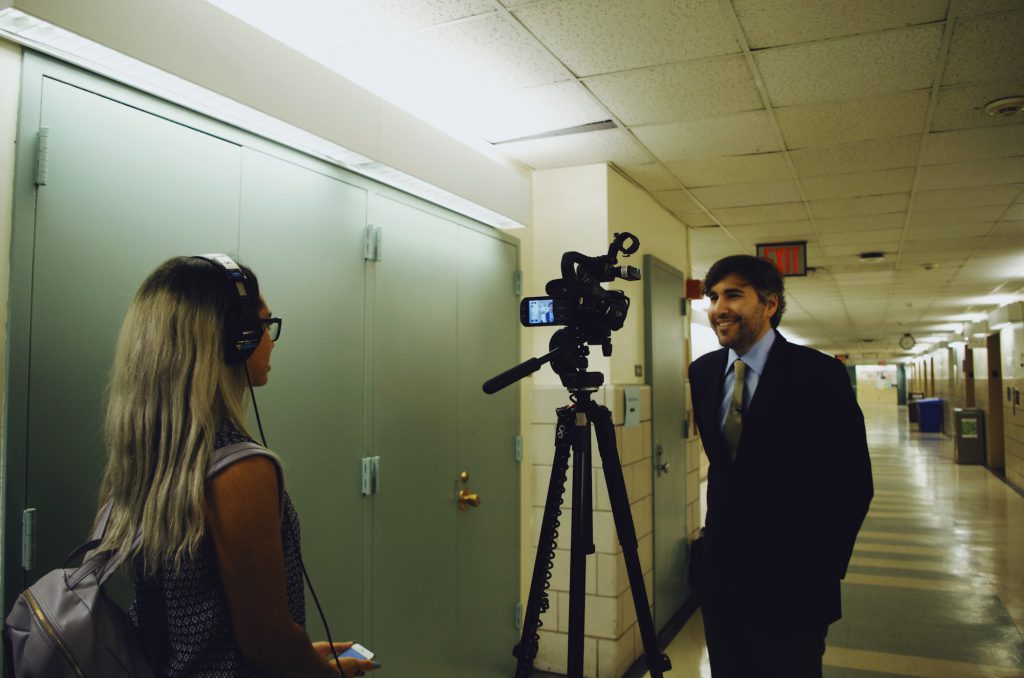 The pair took a variety of questions from students and faculty during the discussion, expressed encouragement about the future of journalism, and offered advice to students trying to break into their respective fields.
Grynbaum suggested that when young journalists do gain access to newsrooms, such as through internships, they should set aside any reluctance about approaching senior reporters for guidance and to learn more about their work.
Carchman too, advised young documentarians to be willing to do what was needed of them, no matter how lowly the task might seem. She concluded: "Give it your all."
Editor's Note: The "Fourth Estate" event was sponsored by the Film & Media Studies Department's Journalism Program. Watch the Journalism Program's website for video of the hour-long panel discussion.