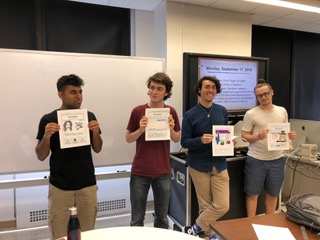 Students in the Macaulay section of MEDIA 211 News Literacy in a Digital Age got a chance to test their news judgment and illustration skills last week.
After learning about the factors news organizations consider when deciding what stories to cover, students broke into teams to determine which of 10 stories from a hypothetical list would make it on to the front page of the journalism program's new newspaper, The Hunter Athenian.
Two teams led with a scoop that Beyoncé was kicking off her worldwide tour with a concert at Hunter College (sorry — just a hypothetical), while the other two teams both led with a story about a  $25 billion cut in financial aid by the Trump administration — luckily also hypothetical.
Students say they enjoyed the exercise because it made them think about news values, a story's importance vs. interest, and serving the Athenian's audience.