CNN producer and video journalist Jonathan O'Beirne shared his expertise, tips and enthusiasm with MEDPL 283 News Video Reporting students on Sept. 5.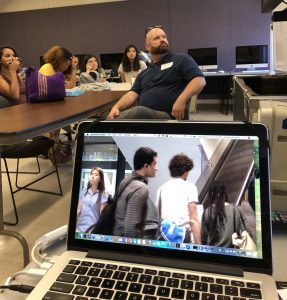 O'Beirne produces videos for CNN's Great Big Story and shared one of his stories, about a teen born without a jaw, which has more than 10 million views. O'Beirne critiqued b-roll students shot around campus and offered some useful tips, including:
Avoid pans and tilts; instead let the action come through the frame.

Overcome your discomfort with being in people's space. Get intimate!

Shoot during the "magic hour," which is actually

twice

a day — during dawn and dusk, when natural light is golden and soft

When shooting b-roll, set one audio channel to auto and the other to manual. This little insurance policy has saved him many times.

And finally, a rule of thumb when shooting anything: Get one wide, one medium and at least two tight shots all of which you hold for at least 10 seconds each.