Students in News Literacy toured the studio and control rooms of World News Tonight with CUNY Journalism School alum Olivia Leach this week, bumping into the president of ABC News, speaking with production assistants and producers, and seeing the rim up close. Students also sat down with David Peterkin, vice president of News Practices for ABC and a longtime producer. The conversation there ran the gamut, from his start as a taxi driver and TV intern, to his job now where he solidifies ABC policy on best practices and rules for reporters and producers.
Journalists need to be curious and skeptical, now more than ever, Peterkin said. At at every turn, they should be answeri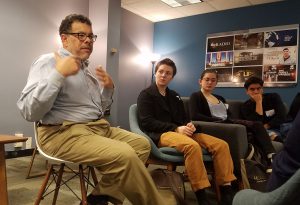 ng this question for the reader or the viewer: How do you know?
"You can't be omniscient," Peterkin said. "You have to be honest and direct and transparent. Even if in the end you were wrong, you at least were transparent about your sourcin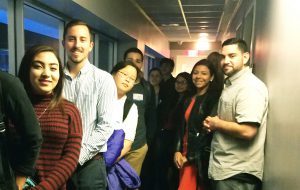 g."
He also cautioned students to make sure they get the facts from both sides, not to create a false equivalency, but allow for the best argument from the other side. Having those facts will strengthen a report. In short, he said, "Report to your own bias." If you think you know one side of the story, make sure you learn the other side as well.
And for all the pressures of reporting in the "right now," Peterkin still maintained that it is a great time to be a young person in journalism. He told students that news organizations are getting leaner, but that leaves more opportunity for the new recruit.
"Be aware, be alert, show your skills," he said. "Pay attention and people will let you do things."